Dayton Audio APA-150 - integrated amp/power amp
Powerful, versatile, high value for money!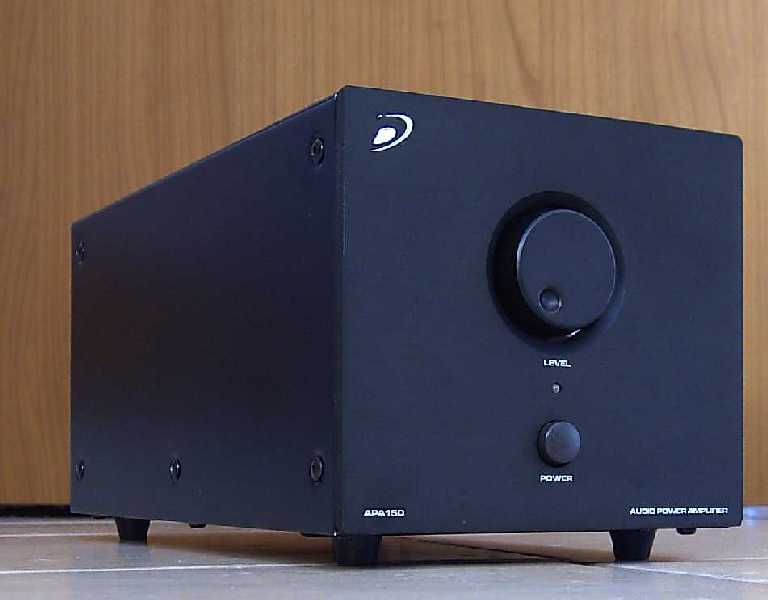 [Italian version]
Product: Dayton Audio APA-150 - Class AB integrated amp & power amp, with subwoofer filter
Manufacturer: Dayton Audio - USA
Approx. price: 210$/160 €
Reviewers: Arvind Kohli (TNT USA) & Lucio Cadeddu (TNT Italy)
Reviewed: April 2012
MANUFACTURER'S PUBLISHED DATA
Manufacturer
Dayton Audio
MSRP
$210 USD ($128 USD at Parts-Express.com)
Class Type
A/B
Power Rating
STEREO: 50wpc @ 8ohms, 75wpc @ 4ohms, 0.01% THD, full bandwidth
MONO: 150watts @ 8ohms
Input Impedance
47 kohms +/- 5%
THD @ Rated Power
less than 0.01%
Inputs
1
Dimensions DxWxH
11.5" x 6.0" x 5.5"
Weight
11.0 lbs
Introduction
My neighbour was looking for a small-form amplifier for the in-wall speakers in his kitchen. Since the speakers were probably somewhat inefficient, we tried a couple of low-powered digital amps but they were not able to produce enough SPL. Most conventional class A/B integrateds were either too large or too expensive, and so were also ruled out of the running. And then I found this little beast, sold by Dayton Audio which is headquartered about 50 miles away from my house. The amps came with a money back warranty and were about $120 each, so my neighbour had no risk in trying them out...and he was very happy with the result, and I had a new candidate for review.
I can't say the folks at Dayton Audio are very well geared to marketing and PR. It needed several attempts to get a hold of someone or to have a phone call returned...it sometimes amazes me how poor some companies can be at availing themselves of free publicity. But, finally when I did get connected with the correct person, things moved very quickly and I had a review sample in my hands within a few days. The profile of the amp is minimal and svelte, with a square face of only about 6". The brushed metal faceplate features nothing more than a power button and it's attendant blue LED, as well as a volume knob of very smooth operation. Overall, the aesthetics were a very clean and simple affair - rather elegant, belying the astonishingly low price point of this amp.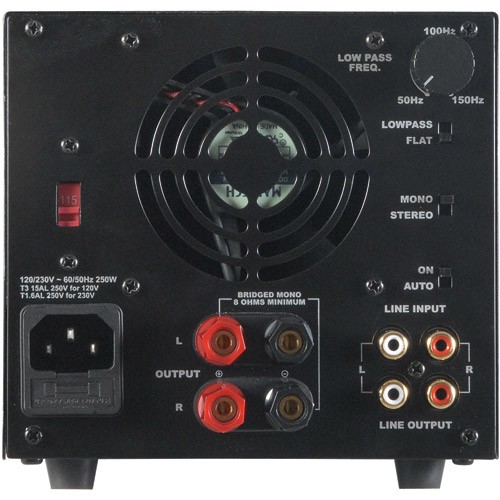 Dayton Audio APA-150 - rear view
The rear panel features a 3-pin IEC input, switchable between 120V and 230V. Also on the rear were the pair of 5-way speaker outputs, 1 set of line level input and 1 set of line level output, obviously no input switching is available here and there is no remote control either - you really can live without those. They are not needed in some applications, and not necessary in any - maybe just convenient. The rear panel also has the vent slots for the powered fan which seems to never be needed; and then there is also the auto-on switch, mono switch and low pass controls. Features and versatility wise, this is a very well thought out amp, and delivers huge value for the money in this aspect alone.
I spoke with Mike Van Den Brok at Dayton Audio, who was the project manager on the design team for this amp. The unit was designed and put into production in 2008. Their stated goal was to develop an amp that could be used in a variety of situations, those being - a regular stereo integrated amp, a subwoofer amp and home theater amp. The amp features a defeatable low pass filter, that is variable from 50-150Hz and has a 18dB/octave slope. When in "Flat" mode the amp runs full bandwidth, and in the "Lowpass" setting it can be used as a subwoofer amp with the crossover point variable between 50 and 150Hz.
From what Mike tells me of the stress tests they performed on this model, the results are quite impressive - especially given the very low price point. Mike reported that his tests measured the amp's output at 75wpc @ 4ohms in stereo mode, 0.01% THD, full bandwidth; and 50wpc @ 8ohms. He recalls that it was also tested to work in 2ohms, but if used over an hour it will overheat and shut off. He says it took 15-20 mins to trigger the fan at a 1ohm load. He also remembers testing it down to 1hz, but bandwidth spec with tolerance was not available.
The APA150 can also be used as a mono block; where by it is rated at 150watts @ 8ohms, not tested at other impedances but Mike guessed it would yield 200-250 watts in 4ohms. All in all that is pretty impressive specs, especially given the street price.
A closer look under the hood
This APA-150 uses a rather conventional configuration and internal structure: Class AB operation with 2 transistors per channel, installed on a closed heatsink, connected to a cooling fan that activates when internal temperature of the heatsink is too high. This happens after a couple of hours at maximum power output. It is extremely silent (i.e. hard to detect by ear) and normally switched off during standard listening.
With a switch in the rear this amp can be put in mono mode to deliver something like 150 watt on a 8 Ohm load.
The amp makes use of a 750 watt toroidal transformer, with 25.8 volt outputs. The power supply section is completed by 2 electrolytic 6800 uF / 50 volts caps supplied by Transcend Electrolytic Co. (TEC) (Taiwan). It was impossible to read the type of bipolar devices without completely dismantling the unit.
General layout is quite chaotic, with wires running from everywhere. The printed circuit boards report the following: APA150 -04 ver. 1.0 (2007). They seem to be produced by the Chinese brand KS.
The owner's manual can be downloaded directly from the Dayton Audio official website.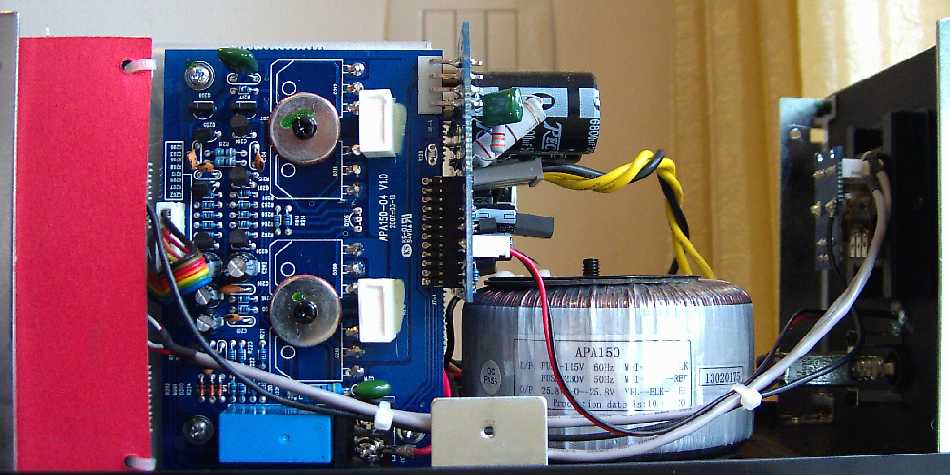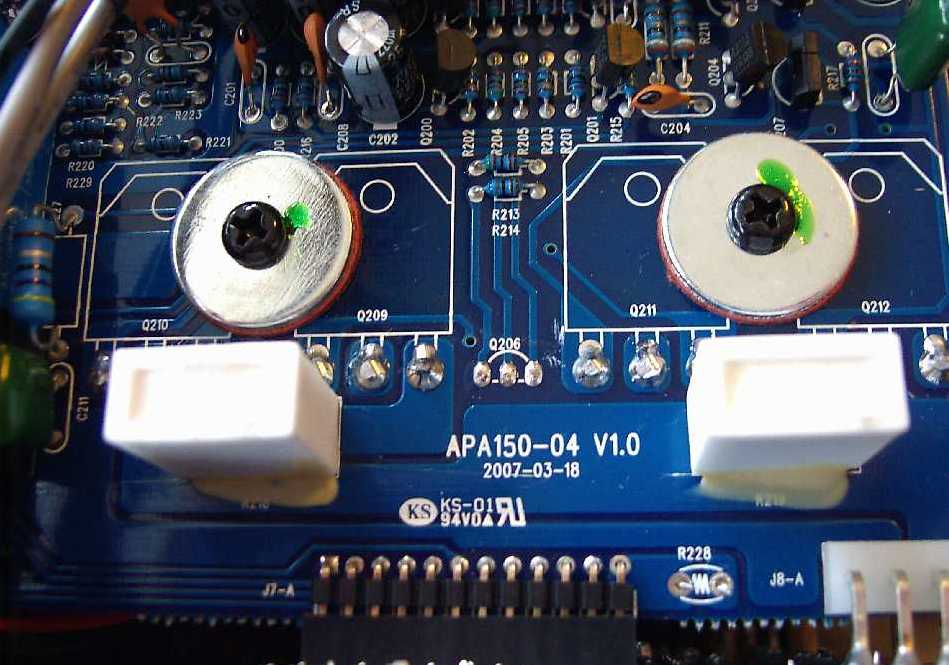 Dayton Audio APA-150 - inside views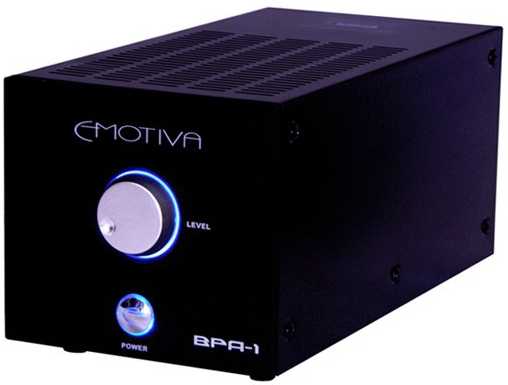 The very same amplifier, albeit under a slightly more elegant faceplate, was the Emotiva BPA-1 (now discontinued) while if you're planning to tweak the APA-150 you might be late, since someone else seems to have already done that: Linn Audio of New Hampshire (by David Linn, nothing to share with Linn UK) offers the very same amp (labelled as LANH 150) for just...1950$ (one thousand, nine hundred and fifty bucks). David Linn claims to have changed components in the most critical areas. Of course details about these mods and pics of the innards of the modified amp are not available (I requested them, of course). At 20 times the original price I expect to find a completely different beast inside ;-)
That said, with just few cents of rubbing compound they should - at least - erase the Dayton logo from the front panel (see pic, the logo is still there...).
My suspect is that the APA-150 is a 100% Chinese amplifier, sold under different brands (Dayton, Emotiva and Linn Audio of New Hampshire).
Availability
The Dayton APA-150 can be bought directly online from www.partsexpress.com (if the link doesn't work, go the the Partexpress home page and search for the amp), Amazon.com and other websites. Otherwise, the Dayton website publishes a list international distributors. European customers might find Intertechnik.de, in Germany, the best place where to purchase this amp, at the moment its price is 168 € + VAT. This way there will not be customs fees to pay, just shipping.
PartsExpress YouTube video that describes the Dayton APA150
Powerful, versatile, high value for money!
So specs and measurements are fine, but resolution and performance in the listening room is what really matters. I often wonder, if a good beefy amp is really all that one needs, or if there truly is a noticable and significant difference that an amp of similar output but "refined" design and components delivers? There, of course, is only one way to find out for sure - and there in come the listening tests. For the listening tests I used a Quad ESL 988, mostly in nearfield configuration, and for direct comparisons I used the previously tested and similarly modestly powered TBI Millenia that retails for USD $500.
"Rimshot" (Eryka Badu; Baduism; Universal; UD53027)
I use a segment from this track to test for low frequency performance on the electric bass. I had a hell of a time telling a difference between the 2 amps. With a low level of confidence I would report that the Dayton seemed to have a slight bit more grunt in terms of bass extension, and the TBI maybe had a touch more finesse and clarity.
"Bass resolution test" (Chesky Jazz and Audiophile tests Vol2; Chesky; JD68)
This test also is used to test low frequency performance, but this time with a double bass. With a bit more certainty that the previous test, I can report that the Dayton Audio had a bit more extension in the bottom end.
"Coming of the Mandinka" (V.M. Bhatt, Taj Mahal; Mumtaz Mahal; Water Lily Acoustics; WLA-CS-46-SACD)
I use this track to test for naturalness of male voices, hall ambience and overall resolution. The TBI had a definite edge here. Most of all there was more depth and dimension to the venue, noticeable not just in the layering of voices from various distances from the mics, but also in the micro spatial cues surrounding them. Also quite noticeable was the reproduction of the Mohan Veena, with significantly better transient response and naturalness in terms of bloom from the plucked strings.
"Guitar demo tracks" (Tonian Labs, Demo tracks)
This spectacularly recorded demo is one of my favourite tests for acoustic guitar. Again, the TBI had a slight advantage on the transients and dynamics of stringed instruments - a plucked acoustic guitar in this case.
"Mining for gold" (Cowboy Junkies; The Trinity session; RCA; 8568-2-R)
This track is used to test for naturalness and detail of female vocals. Upon micro inspection, I'd say with some confidence that the TBI rendered a bit more micro-detail. This was noticed in the wavering of notes and inflection, the Dayton by a minute margin was slightly flat sounding, as in lacking the ability to produce as much detail and nuance.
Sonically, I'd say the Dayton Audio amp redeemed itself very nicely here. Keep in mind it was being compared to a much pricier unit, that I previously reported as an outstanding performer. And also the tests were done using as revealing a set of speakers one would expect to find. As perhaps one would expect, it was not as refined as the much pricier TBI Millenia, but those difference were fairly small in relative magnitude. And the Dayton Audio unit did provide a bit more output in the lowest frequencies.
Comparison with the Dayton DTA-100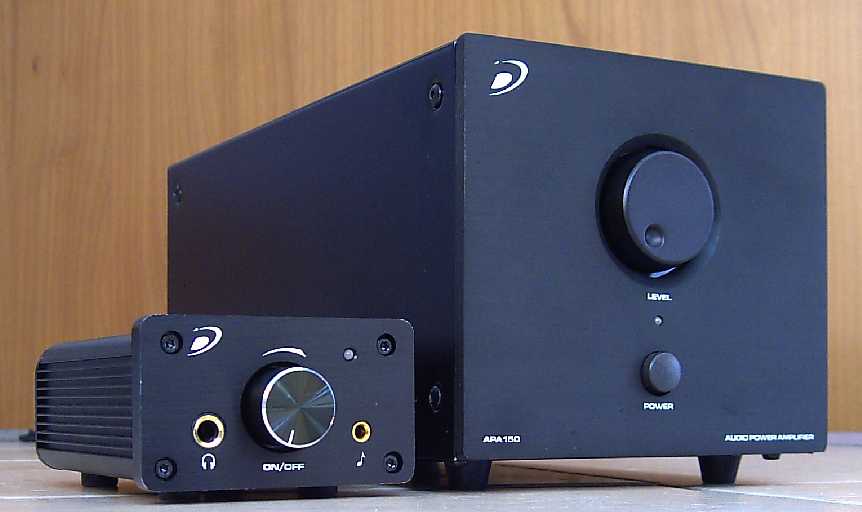 Dayton Audio APA-150 vs DTA-100
In February 2011 we reviewed the Dayton Audio DTA-100 Class D integrated amplifier, a small 25 watt x 2 gem, equipped with the Tripath TK2050 chipset, that sounded incredibly well for just 100$. Likewise the APA150 even the DTA-100 featured just one single line level input, though this was somehow duplicated in the front panel. It also offered a quite useful headphones jack. Power output is half that of the APA150 but its size (and weight!) is several times less :-). Moreover, heat dissipation isn't a main concern, since the Class D operation mode makes the amp run extremely cool. All in all, these are two very different amplifiers, with different targets in mind and different features. And one APA150 costs like two DTA-100's (regular list prices).
My opinion is that if you don't need the extra versatility and power output of the APA150, then the DTA-100A is a better choice. Smaller, cooler, less expensive and still powerful enough to drive even low sensitivity loudspeakers. Plus, it possesses that magic touch in the mid-high range Tripath-based amps are famous for. Of course, at just 128$, the special offer price now available at PartExpress, the APA150 becomes an easy winner. At 210$, its regular list price, the DTA-100 seems to have an edge over it, at least in terms of quality/price ratio.
Complaints
Manufacturing and finish.
Though a bit inexpensive looking, the amp is rather well made. The front panel is unusually thick (6 mm) and nicely finished for the price tag.
The rubber feet are just basic stuff while the output/output posts are of good quality. The speakers binding posts are a bit too close one to the other.
The cooling fan is very silent and doesn't activate unless you're really forcing the amp beyond its limits. The unusual shape of the chassis, which reminds me the famous Carver Cube (M400), might be troublesome to place on narrow HiFi racks. All the switches are placed in the rear panel, certainly not an easy to reach position. It is true that some of these might be used just once but the adjustable subwoofer frequency pot would have been easier to operate if located in the front panel. Volume control, being quite recessed, isn't exactly comfortable to operate. The potentiometer seems quite precise and shows a good channel balance (a problem which has been reported quite often by DTA100 owners instead).
Finally, do not forget this is, actually, a power amp. This means that certain sources might be inadequate to drive the unit appropriately and you might need an active preamp. In other words, depending on the source, even with the volume knob completely turned clockwise, you might not be able to exploit the full power output of the unit. For example, it was impossible to reach clipping when using an old Cyrus PCMII CD player as source. This is because input sensitivity is low.
If that's your situation, and you feel you need all the power the APA-150 can deliver, plan to add an active preamp. At its regular list price (± 200$) you can find many competitors, with similar power output and a lot of extra features: several line inputs, phono input, remote and tone controls etc.(e.g. Denon PMA510AE). If you don't need the extra (and rare) features of the APA 150 (subwoofer filter, mono bridgeability, compact size etc.) take into proper account standard integrated amps from popular Japanese brands as well.
Sound.
Perhaps not the ultimate amp in terms of precision, transparency and imaging this APA150 is very hard to criticize. Especially with this price tag and considering the versatility it offers.
Conclusions
Not sure if it is the worldwide economic slump or happenstance that caused it to happen, but if for $128USD this is what can be bought - it is good news indeed for the hobbyist, either that or the Cost Accountant at Dayton Audio made a huge mistake. My recommendation to anyone starting out or otherwise needing a modestly powered integrated amplifier, this is a great place to start. You will have to spend a lot more money to get a significant upgrade in sound quality.
And given the versatility of this amp, I am simply amazed at what they have packed and designed into this amp.
Copyright © 2012 Arvind Kohli - [email protected] & Lucio Cadeddu - [email protected] - www.tnt-audio.com
Sours: https://www.tnt-audio.com/ampli/dayton_apa150_e.html
Dayton Audio SUB-1000L 10" 100 Watt Low-Profile Powered Subwoofe
$136 Dayton Audio SUB-1000L 10" 100 Watt Low-Profile Powered Subwoofe Electronics Home Audio Speakers Dayton Audio SUB-1000L Raleigh Mall 10" 100 Subwoofe Watt Low-Profile Powered Dayton Audio SUB-1000L Raleigh Mall 10" 100 Subwoofe Watt Low-Profile Powered 10",Dayton,100,$136,Watt,Powered,Low-Profile,treehousestrategy.com,SUB-1000L,Subwoofe,Electronics , Home Audio , Speakers,Audio,/nonselected413918.html $136 Dayton Audio SUB-1000L 10" 100 Watt Low-Profile Powered Subwoofe Electronics Home Audio Speakers 10",Dayton,100,$136,Watt,Powered,Low-Profile,treehousestrategy.com,SUB-1000L,Subwoofe,Electronics , Home Audio , Speakers,Audio,/nonselected413918.html
$136
Dayton Audio SUB-1000L 10" 100 Watt Low-Profile Powered Subwoofe
Make sure this fits by entering your model number.
Ultra-slim subwoofer cabinet installs anywhere...down-firing, side-firing, whatever you need
Full-sized 10" woofer and powerful 100 watt amplifier produce big bass output
Clever bass-reflex design for muscular bass from an enclosure that's a mere 6" thick
"li" Included floor stands and on-wall mounting brackets facilitate a variety of mounting schemes "li" Unobtrusive, textured black vinyl finish complements any decor
|||
Dayton Audio SUB-1000L 10" 100 Watt Low-Profile Powered Subwoofe
Here's how the Amazin's match up with the '98 Yankees, the curse-breaking Cubs, the Big Red Machine and others in baseball's divisional era. Also, watch Parts 1 and 2 of the latest 30 for 30, "Once Upon a Time in Queens" on the '86 Mets starting at 8 pm ET on ESPN.
Our overreaction guru Mark Schlabach squashes dreams and speaks truth after Week 2.
14hMark Schlabach
Let's assess which teams have struggled out of the gate have reason for genuine concern.
Ryan Braun put up huge numbers in his time with the Brewers, but his 2013 PED suspension -- and how he handled it -- cast a shadow over his career.
How did the rookie starters look in Week 1? What did Jones, Lawrence and Wilson do well -- and not so well? Plus, when will Trey Lance and Justin Fields start?
Mac Jones showed poise for the Pats and Joe Tryon-Shoyinka made his mark on the Super Bowl champs.
14hNFL Nation
Kevin Pelton is weighing in on all the latest offseason deals, including Aaron Gordon's extension with the Nuggets.
0:50

Jacksonville State stuns FSU with miracle TD on final play

Zerrick Cooper connects with Damond Philyaw-Johnson for a 59-yard touchdown on the game's final play to give Jacksonville State a 20-17 win vs. Florida State.
0:30

The Griffeys go back-to-back

On Sept. 14, 1990, Ken Griffey Sr. and Ken Griffey Jr. were teammates for less than a month when the pair smacked back-to-back home runs against the California Angels. The duo became the first father-son combo to hit homers in the same game.
Bandai Devil Akemi Homura Madoka Magica Rebellion Anime Girl Cha

Illustration by ESPN

Can the NCAA puzzle be solved amid a culture of mistrust?

After a summer marked by monumental change and feuding factions, the NCAA is promising change. Again. Can the NCAA and its varied members find common ground?
ESPN Images

The ESPN Daily podcast: How to listen, episode guide and more

Monday through Friday, host Pablo Torre brings you an inside look at the most interesting stories at ESPN, as told by the top reporters and insiders on the planet.
NBA Detroit Pistons Black/Blue Digital Panel Pant

LaLiga on ESPN+

Watch every game live in English or Spanish

Stream live coverage of all 380 LaLiga matches and enjoy a variety of content including classic games, match previews, highlights and more with your ESPN+ subscription.
The Undefeated on ESPN+

Celebrate Black History

The Undefeated on ESPN+ offers fans year-round premium content highlighting the intersectionality of race, culture and sports. Check out new premium storytelling, your favorite ESPN Films and more.
Sours: http://treehousestrategy.com/nonselected413918.html
Dayton Audio
ND140-4
Resonant frequency
fS
59.2
Hz
Electrical Q
QES
0.72
Mechanical Q
QMS
5.35
Total Q factor
QTS
0.63
Suspension equivalent air volume
VAS
7.22
litres
DC resistance
RE
3.7
Ω
Voice coil inductance
LE
0.79
mH
Force factor
B·l
3.9
T·m
Suspension mechanical resistance
RMS
0.7
N·s/m
Suspension mechanical compliance
CMS
710
µm/N
Moving mass
MMD
9.5
g
Moving mass (including airload)
MMS
10.1
g
Surface of the diaphragm
SD
86.6
cm²
Effective diaphragm diameter
Ø
10.5
cm
Maximum linear excursion
Xmax
± 4
mm
Displacement volume at Xmax
VD
34.6
cm³
Efficiency
η₀
0.2
%
Efficiency bandwidth product
EBP
82
Sours: http://www.loudspeakerdatabase.com/Dayton/ND140

B652-AIR Speaker System
Performance
Build Quality
Value

SUB-1000 Subwoofer
Performance
Features
Build Quality
Value
PRICE
$299 as reviewed
AT A GLANCE
Plus
Super affordable
Pleated-diaphragm tweeter
Cinema-friendly voicing
Excellent finish quality
Minus
Lively cabinets
Wire-clip speaker terminals
THE VERDICT
If you want a home theater system and you want it now, these speakers will suit a draconian budget. Let a thousand starter systems bloom.
Late last year, a Florida man walked into Starbucks and ordered a Grande Latte with 99 extra shots of espresso and 17 pumps of vanilla syrup, mocha, and matcha powder. His tab was $83.75—more than a pair of Dayton Audio B652-AIR speakers. He was a big spender, of course, but if you ordered, say, a White Chocolate Mocha every day for two weeks at $4.65 per cup, you'd still spend more than the price per pair of these speakers.
Yes, when I say the Daytons cost $60/pair, I haven't missed a zero, though I might be guilty of rounding: The exact Web price is $59.80/pair. If you ditch the pleated planar tweeter for a more conventional dome, the price drops to $39.80/pair for the regular B652—unless you want fries (oops, I meant a Class D amp) with that. Then the price goes to $69.60 for the dome-tweeter version including amplification.
I'm quoting the price of a 5.1-channel setup as $299, though that actually buys you six speakers and a sub. At such prices, you can afford to shove the extra speaker into the back of a closet. As toddler insurance, perhaps. You might also configure the sixth speaker as a single back-surround. Although that would be unusual, it is supported by many AVRs.
No Frills (Well, Not Many)
The B652-AIR will never win any beauty contests, though it's hardly an eyesore. It looks a lot like the no-frills speakers packaged with home-theater-in-a-box systems. The simple rectangular enclosure is fiberboard, not plastic. It does betray audible resonances when rapped with knuckles, indicating not much (if any) internal bracing or damping.
On the back is a keyhole mount and a pair of spring-loaded wire clips, the cheapest possible speaker terminals. At this price, I'm not complaining. The clips are suitable for pin plugs, bare wire, or the soldered tips of the supplied skinny cables. (Yes, your cheap speakers come with free cables!) In the unlikely event that you want to use terminated speaker cables, you'll have to go for the pin connectors—and that's what I did, unscrewing the banana plugs from my Monster 1.2s cables to use the underlying pins. I routinely warn that this kind of wire clip will not stand up to rough use. Treat them gently.
A detachable cloth grille is a pleasant surprise at this price. Pull it off the sealed enclosure, and you'll find a 6.5-inch polypropylene-cone woofer and something fairly special: a folded-diaphragm planar magnetic tweeter, what Dayton Audio calls an Air Motion Transformer or AMT. Protected by a horizontal hard-plastic-ribbed grille and subtly shaped by a waveguide, the tweeter measures an inch square and the diaphragm is made of Kapton, a temperature-resistant polyamide film developed by DuPont. The pleated design uses a squeezing motion to create air-pressure changes (which our ears perceive as sound). Lest you think this is one of those ruthlessly revealing speakers, Dayton actually has voiced them fairly gently. It might tickle your ears, but it won't singe them.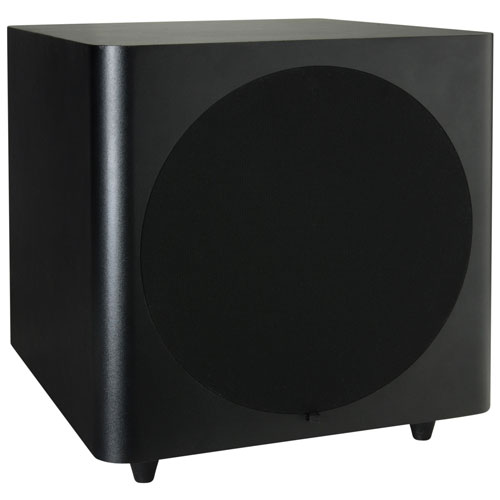 I reviewed the B652-AIR with the SUB-1000 subwoofer. Backing up the 10-inch front-firing woofer is a conservatively rated 100-watt RMS amp. Modest cosmetic touches include curved side edges and a round speaker grille. On the back is a pair of line-level stereo inputs. The speaker-level ins and outs use wire clips.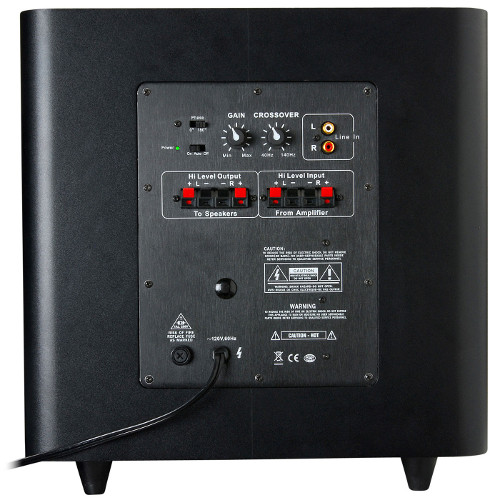 Associated equipment included a Pioneer Elite VSX-53 A/V receiver, which at its original price of $1,100 would buy 18 pair of these speakers. (Sorry, once I got started on these calculations, it was hard to stop.) Also in harness were an Oppo BDP-83SE universal disc player, Micro Seiki BL-21 turntable, Shure V15MxVR/N97XE cartridge, and the phono stage of a Denon PRA-S10 preamp. All movie demos were on Blu-ray Disc.
Not So Cheap After All
Before break-in, the Daytons sounded like cheap speakers with obvious coloration. Aha, I thought: You get what you pay for. However, six hours of use were transformative in this case. The coloration faded away except for a smidgen of cabinet resonance. Mid and high frequencies opened up and dispersed commendably well, both on and off axis; there wasn't a bad seat in the house. Although the pleated tweeter wasn't the airiest one of its kind I've heard (the "AIR" in the model designation notwithstanding), the top end was consistently listenable with all kinds of content. These speakers did love movies.
I should add that my default is always to listen with grilles on. Dayton's grille frame is a layer of fiberboard with cutouts for the drivers. Grilles almost always affect the speaker's frequency response and diffraction patterns, though it didn't perceptibly hobble the tweeter's wide horizontal dispersion. Removing the grilles boosted the presence region, and some listeners may prefer that.
Sours: https://www.soundandvision.com/content/dayton-audio-b652-air-speaker-system-review
Audio dayton
Dayton Audio B652 review:
Dayton Audio B652
Design and features
To be clear, the Dayton B652s are passive speakers (not self-powered models). That means you'll need to provide an amplifier, such as an AV receiver, to get sound. But bargain hunters can rest easy: pair them with the $25 , and you've got yourself a quality mini stereo system for less than $75. And, unlike a similarly priced iPod speaker dock or Bluetooth speaker, using separate speakers means you can deliver true stereo separation, with speakers at each side of the room.
This medium-size bookshelf speaker can be placed on a speaker stand, within a cabinet, or even in an actual bookcase. The second and third options are possible because the B652 doesn't have a rear (or front) bass port, so the speaker can be placed up against a wall, but as with most speakers, it will sound best placed a foot or two away from a wall. The matte-black vinyl cabinet's front baffle is covered by a removable black cloth grille, which is neatly mounted on a fiberboard frame. The B652 measures a trim 11.75 inches tall by 7.2 inches wide by 6.5 inches deep; the pair of speakers weighs 14 pounds in their shipping box.
For an inexpensive speaker, the B652 boasts an unusually large 6.5-inch polypropylene cone woofer. That's augmented by a ferrofluid-cooled 5/8-inch polycarbonate dome tweeter. The speaker's impedance is rated at 8 ohms. There's a metal keyhole slot to facilitate easy wall-mounting, and you get a set of plastic spring-clip wire connectors. Unfortunately, the connectors don't provide a secure grip on the wires, so an inadvertent tug might yank the wire out of place.
Our only qualm about the design of the Dayton B652s is an aesthetic one. It's not that they're ugly, it's just that the competing bargain speakers, the $69 speakers, are more attractive. Yes, they're also black boxes, but the SS-B1000s just looked a bit better.
Performance
In our tests, the B652s' sound was balanced and clear. For speakers of their size, bass is full and definition is decent; there's no overt thickening or bloat. I doubt most buyers will feel the need to add a subwoofer to their Dayton music systems.
As mentioned above, the $25 Lepai LP-2020A+ stereo integrated amplifier seemed like a logical partner for this B652 review. It's a 20-watt-per-channel amplifier, so I was curious to see how loud the speaker could play in the large CNET listening room with the little amp. Sound quality was very listenable, and stereo imaging was realistic on Neil Young's excellent-sounding "Live at Massey Hall 1971" CD. The clarity of Young's vocals and guitar was up to snuff. Encouraged by what I heard, I turned up something more demanding, The Dirtbombs' raucous "Party Store" CD, and the B652s' sound held up nicely. This recording has a lot of bass, and the B652s' deft control of the bass was impressive.
To put the sound in context, I compared the B652 with another pair of budget bookshelf speakers, the aforementioned Sony SS-B1000s. These $69-per-pair speakers are a bit smaller than the B652s, but they had more prominent though less well-defined bass. Dynamic impact was scaled back and the treble was muffled and less clear than the B652s'. The Sonys sound acceptable for budget speakers, but the B652s are definitely a step up on the performance scale -- and the Daytons are about $20 cheaper.
Continuing the evaluation, I connected the B652s to an receiver, and the speakers sounded more refined and clearer than they did with the LP2020A+. Even so, highly demanding action movies like "House of Flying Daggers" revealed the limitations of the B652 as a home theater speaker (when used without a subwoofer). The martial-arts fight scenes, like the one in the bamboo forest, made heavy demands, so the B652s compressed the soundtrack's wide dynamic swings, and when the volume was turned up high the sound was slightly distorted. Less action-oriented fare, like the TV series "Lost," sounded perfectly fine. Adding a subwoofer to the system would significantly ease the demands on the B652s, and they would then be up to the task of playing "House of Flying Daggers" or any other movie at fairly loud levels.
To that end, if you'd prefer a 5.1-channel home theater, add Dayton's CCS-33B three-way center-channel speaker that runs $64.99 ($49.77 on Amazon) and the $99 Dayton SUB-80 8-inch, 80-watt powered subwoofer. So a complete Dayton home theater speaker system goes for around $240, and while that's still affordable, less expensive options are available (consider the Monoprice 8247 that sells for $84!).
Speakers from Aperion Audio, Boston Acoustics, and Definitive Technology sound significantly clearer, but they're all a lot more expensive than the B652s. For example, (with a 5-inch woofer) sells factory-direct for $185 each.
Conclusion
Dayton Audio's B652 bookshelf speakers are a remarkable value. I would be just as impressed with these speakers if they sold for $150 a pair; at $44.50 from Amazon (plus shipping) the B652s are an incredible bargain, and easy to recommend to anyone who wants solid stereo sound. You won't find a better-sounding speaker pair in the sub-$50 range.
Sours: https://www.cnet.com/reviews/dayton-audio-b652-review/
iPhone Screenshots
Description
The DSP-408 app allows the user to control their Dayton Audio DSP-408 when paired with the optional Bluetooth dongle. The DSP-408 is a feature-rich 4 input/8 output digital signal processor that was designed to give you the tools to contour your audio system to fit your tastes.

With the ability to apply crossovers, utilize 10 bands of parametric EQ per channel, assignable inputs/outputs, add delay, and even stream music, all from your mobile device, the DSP-408 is truly your path to great sound.
This app has been updated by Apple to display the Apple Watch app icon.

1.bug fix
Ratings and Reviews
DSP-408
The app is user friendly and it works well. The Bluetooth connection does randomly disconnect at least once a day. Also a landscape view mode would be helpful.
Dayton Audio DSP
App needs a password function to protect settings from out side users.
Crashing with iOS 14.2
App crashes immediately iOS 14.2 iPhone XS Max, use to work great.
The developer, Dayton Audio, has not provided details about its privacy practices and handling of data to Apple. For more information, see the developer's privacy policy.
No Details Provided
The developer will be required to provide privacy details when they submit their next app update.
Information
Seller

Dayton Audio, LLC

Size

27.9 MB

Category

Entertainment

Compatibility

iPhone

Requires iOS 8.0 or later.

iPod touch

Requires iOS 8.0 or later.

Mac

Requires macOS 11.0 or later and a Mac with Apple M1 chip.

Languages

English, Simplified Chinese, Traditional Chinese

Age Rating

4+

Copyright

© Dayton Audio LLC.

Price

Free
Supports
Family Sharing

With Family Sharing set up, up to six family members can use this app.
More By This Developer
You Might Also Like
Sours: https://apps.apple.com/us/app/dayton-audio-dsp-control/id1343719910
You will also like:
.
97
98
99
100
101