---
Description
Pot of Duality:
Reveal the top 3 cards of your Deck, add 1 of them to your hand, then shuffle the rest back into your Deck. You can only activate 1 "Pot of Duality" per turn. You cannot Special Summon during the turn you activate this card.

Number: BP02-EN160
Rarity: Rare
Card Type: Spell/Magic Card
More
---
Every item in our inventory has been inspected, very strictly graded, and bagged for its protection.
SW
Shrink Wrapped. Still in the original factory shrink wrap, with condition visible through shrink noted. For example, "SW (NM)" means shrink wrapped in near-mint condition.
NM
Near Mint. Like new with only the slightest wear, many times indistinguishable from a Mint item. Close to perfect, very collectible.
Board & war games in this condition will show very little to no wear and are considered to be punched unless the condition note says unpunched.
EX
Excellent. Lightly used, but almost like new. May show very small spine creases or slight corner wear. Absolutely no tears and no marks, a collectible condition.
VG
Very Good. Used. May have medium-sized creases, corner dings, minor tears or scuff marks, small stains, etc. Complete and very useable.
Fair
Very well used, but complete and useable. May have flaws such as tears, pen marks or highlighting, large creases, stains, marks, a loose map, etc.
Poor
Extremely well used and has major flaws, which may be too numerous to mention. Item is complete unless noted.
Boxed items are listed as "code/code" where the first code represents the box, and the second code describes the contents. When only one condition is listed, then the box and contents are in the same condition.
A "plus" sign indicates that an item is close to the next highest condition. Example, EX+ is an item between Excellent and Near Mint condition. A "minus" sign indicates the opposite.
Major defects and/or missing components are noted separately.
Boardgame counters are punched, unless noted. Due to the nature of loose counters, if a game is unplayable it may be returned for a refund of the purchase price.
In most cases, boxed games and box sets do not come with dice.
The cardboard backing of miniature packs is not graded. If excessively worn, they will be marked as "card worn."
Flat trays for SPI games are not graded, and have the usual problems. If excessively worn, they will be marked as "tray worn."
Remainder Mark - A remainder mark is usually a small black line or dot written with a felt tip pen or Sharpie on the top, bottom, side page edges and sometimes on the UPC symbol on the back of the book. Publishers use these marks when books are returned to them.
If you have any questions or comments regarding grading or anything else, please send e-mail to [email protected].
Sours: https://www.nobleknight.com/P/2147578122/Pot-of-Duality-Black-Rare
When you go to your local Duelist Revolution Sneak Peek event next weekend, you'll meet plenty of Duelists looking for lots of different cards.  Duelist Revolution has sweet new stuff for Beasts, Amazonesses, and other Decks, plus the new "Scrap" monsters, but the one card everyone's going to be hunting for is Pot of Duality. It's the most talked about Spell Card in years!
Pot of Duality is a Spell Card that lets you reveal the top 3 cards of your Deck, add 1 to your hand, and then shuffle the other 2 back.  You can only activate 1 Pot of Duality each turn, and you can't Special Summon on the turn you do.  In return, you get to see more cards faster, giving a huge boost to almost any strategy. 
When you have Pot of Duality in your Deck, you'll draw your most important cards faster and more often.  Infernities will see Infernity Mirage and Infernity Launcher more often, X-Sabers will find to Rescue Cat and XX-Saber Faultroll even more often than they do now, Quickdraw Dandywarrior gets Quickdraw Synchrons and Dandylion faster, and Gladiator Beasts get to Starlight Road and Gladiator Beast WarChariot earlier than usual. 
It's especially good in Blackwings, a Deck that was already willing to give up its Special Summons for a turn to draw more with Cards for Black Feathers.  Activating Pot of Duality means you won't be able to go all-out with attacks for that turn, but what you get in trade is consistency, which, as any experienced Duelist will tell you, is a rare and precious thing.
On your first turn you'll start with a hand of 6 cards.  Activating Pot of Duality on your first turn will then let you see the next 3 cards of your Deck. That means you'll have at least looked at 9 cards total.  Many Duelists don't attack on their first turn anyways even if they aren't going first, so giving up your Special Summon there is no big deal. 
By the time your next turn rolls around, you'll have seen at least 10 cards from your Deck instead of the usual 7, though remember, the two you didn't pick with Pot of Duality are back in your Deck and might show up again.  That makes a tremendous difference, and helps you put together a big second turn to take control of the Duel.  When you get to see a fourth of your Deck or more by your second turn, it's no problem putting together your combos.
Want to see your Limited cards more frequently? Pot of Duality makes it happen.
Seeing more cards also means a better chance of picking up Limited cards that you normally wouldn't see as often.  If you've ever wished that you could draw powerful cards like Heavy Storm, Mirror Force, or Brain Control in more of your Duels, then Pot ofDuality is the card you've been waiting for.  No matter what you play, Limited cards like these can make the difference between victory and defeat, and because they're Limited you don't draw them all the time.  Pot of Duality can make "heart of the cards" miracles happen far more often.
Pot of Duality even lets you make better use of your Side Deck.
Caption: The cards you rotate in from your Side Deck are usually real game-changers, but you can't use them if you don't draw them.  Some of the most powerful cards Duelists are Side Decking in tournaments these days can't be searched with cards like Sangan or Mystic Tomato, leaving them up to luck of the draw.  But with Potof Duality, you can improve your chances of getting to game-changing cards like Consecrated Light, SystemDown, Mask of Restrict, and Crevice into the Different Dimension.
The more cards you draw, the easier it is to get what you want.  If you're lucky enough to find Pot of Duality in your Sneak Peek packs, be sure to think really hard about what that card could do for your Deck before you think about trading it.  Pot of Duality goes in almost anything, and it's sure to see huge play in Decks at all levels of play from here on out.
Written by: Jason Grabher-Meyer
Categories: Advanced Tips > Beginner Tips > Intermediate TipsTags: Duelist Revolution
Sours: https://yugiohblog.konami.com/articles/?p=2101
Pot of Duality
Language
Name
Lore
French
Pot de Dualité
Dévoilez les 3 cartes du dessus de votre Deck, ajoutez-en 1 à votre main, et aussi, après ça, mélangez les cartes restantes dans votre Deck. Vous ne pouvez activer qu'1 "Pot de Dualité" par tour. Vous ne pouvez pas Invoquer Spécialement durant le tour où vous activez cette carte.
German
Topf der Gegensätzlichkeit
Grabe die obersten 3 Karten deines Decks aus, füge 1 von ihnen deiner Hand hinzu, zusätzlich mische danach die restlichen in dein Deck zurück. Du kannst nur 1 "Topf der Gegensätzlichkeit" pro Spielzug aktivieren. Du kannst während des Spielzugs, in dem du diese Karte aktivierst, keine Spezialbeschwörungen durchführen.
Italian
Giara della Dualità
Dissotterra le prime 3 carte del tuo Deck, aggiungi 1 di esse alla tua mano, inoltre, dopo averlo fatto, mischia il resto nel tuo Deck. Puoi attivare solo 1 "Giara della Dualità" per turno. Non puoi Evocare Specialmente durante il turno in cui attivi questa carta.
Portuguese
Pote da Dualidade
Escave os 3 cards do topo do seu Deck, adicione 1 deles à sua mão e, além disso, depois, embaralhe o resto de volta no seu Deck. Você só pode ativar 1 "Pote da Dualidade" por turno. Você não pode Invocar por Invocação-Especial durante o turno em que ativar este card.
Spanish
Olla de la Dualidad
Excava las 3 cartas de la parte superior de tu Deck, añade 1 de ellas a tu mano y además, después de eso, baraja el resto de vuelta a tu Deck. Sólo puedes activar 1 "Olla de la Dualidad" por turno. No puedes Invocar de Modo Especial durante el turno en el que activas esta carta.
Japanese
でな
このカード名のカードは1ターンに1枚しか発動できず、このカードを発動するターン、自分はモンスターを特殊召喚できない。①:自分のデッキの上からカードを3枚めくり、その中から1枚を選んで手札に加え、その後残りのカードをデッキに戻す。
Gōyoku de Kenkyo na Tsubo
Pot of Greed and Humility
Korean
욕망과 겸허의 항아리
이 카드명의 카드는 1턴에 1장밖에 발동할 수 없으며, 이 카드를 발동하는 턴에, 자신은 몬스터를 특수 소환할 수 없다. ①: 자신의 덱 위에서 카드를 3장 넘겨, 그 중에서 1장을 골라 패에 넣고, 그 후 남은 카드를 덱으로 되돌린다.
Yokmanggwa Gyeomheo-ui Hang-ari
Traditional Chinese
強欲而謙虛之壺
从我方牌组的上方依序翻阅3张卡牌,从中挑选1张加入手牌,之后将剩下的卡牌返回至牌组。「強欲而謙虛之壺」1回合只可发动1张,发动此卡的回合,我方不可特殊召唤怪兽。
Simplified Chinese
强欲而谦虚之壶
此卡名的卡1回合仅可发动1张,发动此卡的回合中,自己不可特殊召唤怪兽。①:从自己的牌组上面翻开3张卡,从其中挑选1张加入手牌,然后将剩下的卡放回牌组。
Sours: https://yugipedia.com/wiki/Pot_of_Duality
Is Pot of Duality still a viable card ?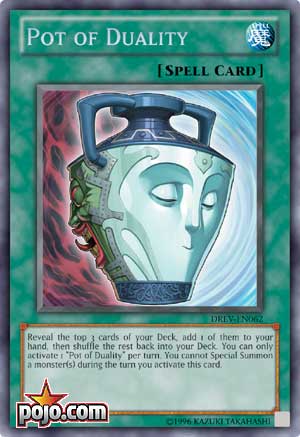 Pot of Duality – #DREV-EN062
Excavate the top 3 cards of your Deck, add 1 of them to your hand, also, after that, shuffle the rest back into your Deck. You can only activate 1 "Pot of Duality" per turn. You cannot Special Summon during the turn you activate this card.
Date Reviewed:  March 11th, 2021
Rating: 3.92
Ratings are based on a 1 to 5 scale. 1 is awful. 3 is average. 5 is excellent.
Reviews Below:
---


King of
Lullaby
Hello Pojo Fans,
Pot of Duality is our Throwback Thursday choice this week and one of the most expensive cards before rarities expanded, as well as a game-changing set: Duelist Revolution.
Still a great card used in countless decks, excavate top 3 cards from your deck and add one, shuffle back the rest, a 1-for-1 that gives you a choice from three potential cards, what's not to like? The only bad things about Duality are that they prevent you from Special Summoning that turn, so there's no end-around for that, and that your opponent can see what you choose and what you are playing (if played turn one). Despite those negatives, this card is great in many decks. It is a staple in anti-meta and decks that do little Special Summoning. In draw decks like Exodia or control decks it is a must, and even in decks that Special Summon a lot it is still played because it is that good. The best time for a Duality I'd argue would be after you've set up your board and have decent control of the game, that way you can sacrifice a turn of no Special Summons and get some more card advantage. The only reason not to play Duality really is if you can't afford other better draw options.
Duality is an easy card to play and too beneficial not to play.
Advanced-4/5     Art-3/5
Until Next Time
KingofLullaby
---


Crunch$G
Earlier we looked at Pot of Prosperity for excavating cards to get what you need, now we look at the original card to do such: Pot of Duality.
PoD is a Normal Spell that lets you excavate the top 3 cards of your Deck for you to add one of the revealed cards to hand while the others are shuffled into the Deck. In return, you cannot Special Summon the turn you activate this card. No cost for excavating and getting what you want is nice, though it doesn't give the option to excavate 6 like Pot of Prosperity. The lock from Special Summoning can be annoying, but just play a Deck that doesn't Special Summon and that restriction is irrelevant. It's an easy to use card with no cost, so you don't have to worry about your Extra Deck cards. You can only activate one of these a turn, one of the earlier hard once per turns, and once again is fair here. You're more limited to where you can play Pot of Duality since it turns off Special Summons, the game sped up to where this isn't a staple anymore in every Deck, but the Decks that can still use this would like to double their chances to find the cards they need with this and Prosperity.
Advanced Rating: 4/5
Art: 3/5 Yet another two-faced Pot, we got Generosity again, this time with the classic Pot of Greed.
---


Alex
Searcy
Throwback Thursday, appropriately, gives us Pot of Duality.  Better, more effective, and just a more well rounded card than PoP, Duality lets you Excavate 3 cards from your Deck.  You add 1 of your choice to your Hand and shuffle the others back into your Deck.  Nice honest 1-for-1 here that won't often break a game open.  You can't Special Summon for the Turn you use this, but that's not a huge issue.  Aggravating, sure, but maybe you're using a Theme that doesn't do much or any Special Summons.  Maybe you've got enough on the board for the win and you're just looking for the card for the killing blow.  Much less restrictive than PoP and can much more easily be used to finish a game, if necessary or applicable.
Rating:  3.75/5
Art:  3/5  Honestly, not a big fan of this either, but I do like seeing the original Pot of Greed as one of the faces
---
We would love more volunteers to help us with our YuGiOh Card of the Day reviews.  If you want to share your ideas on cards with other fans, feel free to drop us an email.  We'd be happy to link back to your blog / YouTube Channel / etc.   😉
Visit the Card of the Day Archive!Click here to read over 4,000 more Yu-Gi-Oh! Cards of the Day!
Crunch$G
Been playing the game since about 2006 and had a ton of fun along the way. If you wish to contact me, you can email me at [email protected] or [email protected] to ask me anything or if you simply want to discuss Yu-Gi-Oh.
Sours: https://www.pojo.com/pot-of-duality-yu-gi-oh-review/
Duality pot of
.
pot of duality
.
You will also be interested:
.
67
68
69
70
71