Introduction
On March 17th, 2021, AMD unveiled its AMD Radeon RX 6700 XT video card with suggested pricing of $479. We did a full review on the built by AMD Radeon RX 6700 XT video card. In our review, we tested eight games at 1440p and also included performance showing Smart Access Memory enabled versus disabled. We also did a few Ray Tracing performance tests.
Our results were interesting and basically put the Radeon RX 6700 XT as a performance competitor to the GeForce RTX 3060 Ti, even though AMD was aiming closer to the GeForce RTX 3070. In our testing, it danced all around the RTX 3060 Ti instead, while the RTX 3070 was always on top.
The one thing that could change the performance outcome would be to of course overclock the AMD Radeon RX 6700 XT video card. Therefore, in our review today we are going to show you how to overclock the AMD Radeon RX 6700 XT and see how fast it can go. Keep in mind that this is a "reference" built by AMD Radeon RX 6700 XT. There will of course be custom factory overclocked video cards from add-in-board partners, and they may yield different results.
Plus, we are a bit early on software supporting overclocking at the moment. All we can use is AMD's Radeon Software and its built-in Performance Tuning feature. It does have its limits in terms of potential overclock. However, it does work well, and we had no issues using it for overclocking.
Overclocking AMD Radeon RX 6700 XT
Above you will see the AMD Performance Tuning portion of the software. The first thing we did was to raise the Power Tuning. With this video card, you can raise it by 15% over default. The second thing we did was to raise the fan speed as high as possible so that we could ensure the highest possible overclock. Though we set it to 100%, we actually found out it only ran at 87% while gaming. This is odd, could be a software issue, or the video card limiting the fan speed for some reason. It's not a major concern though, even at 87% it kept the GPU plenty cool for our overclocking tests as you will see.
We were not able to increase the Voltage, as you can see it was already maxed out at 1200mV. We were also limited on the amount of memory overclock we could apply. It seems the slider maxes out at 2150MHz (17.2GHz) from the default 2000MHz (16GHz) frequency. We felt there was more headroom in the memory for overclocking higher, but we were simply limited to the maximum slider value. Therefore, our memory overclock is 17.2GHz up from 16GHz. This increases the memory bandwidth to 412GB/s from the default 384GB/s.
On the GPU frequency, all we really needed to do was raise the Max Frequency slider. We found that it maxes out at 2950MHz. However, that was not stable, games crashed immediately. We backed it back down until we found a good solid frequency that worked without issue over long periods of time gaming. This value turned out to be 2800MHz on the slider.
Keep this in mind, the GPU frequency is very dynamic, even though you set 2800MHz this doesn't mean it will run at it. It only means it can run "Up To it." So while gaming, the only way to see what the real overclocking frequency is was to record the frequency over time with GPUz. Therefore, in the graph below you can see what it actually turned out to be real-time versus the default frequency.
Here in this graph, you can see that the overclocked frequency is quite a bit higher than the default frequency. The default frequency hovers around the 2574MHz line, while the overclocked frequency is right under the 2724MHz line. The peak frequency that it hit while overclocked was 2751MHz briefly, so it never actually reached 2800MHz, about 2750MHz was the maximum peak. However, the average is much different. The average overclocked frequency was 2717MHz. You can compare this to the default average clock speed of 2575MHz. That means the GPU overclock is about a 6% overclock of 142MHz on average.
GPUz
Here is the full-load GPUz sensor data while overclocked. You can see that the peak frequency was 2751MHz, and the fans were operating at 87% fan speed and keeping a temp of 62c max. The GPU Chip Power draw was 200W and the GPU Voltage was at the default 1.200V.
Pages: 1234567
Recent News
Sours: https://www.thefpsreview.com/2021/03/22/overclocking-amd-radeon-rx-6700-xt/
AMD Radeon RX 6700 XT (reference) review - Overclocking the graphics card

Overclocking the graphics card
For most graphics cards you can apply a simple series of tricks to boost the overall performance a little. Typically you can tweak the core clock frequencies and voltages. By increasing the frequency of the video card's memory and GPU, we can make the video card increase its calculation clock cycles per second. It sounds hard, but it can really be done in less than a few minutes. I always tend to recommend to novice users and beginners, to not increase the frequency any higher than 5% on the core and memory clock. Example: If your GPU runs at 1500 MHz then I suggest that you don't increase the frequency any higher than 25 MHz increments.
More advanced users push the frequency often way higher. Usually, when your 3D graphics start to show artifacts such as white dots ("snow"), you should back down 25 MHz and leave it at that. Usually, when you are overclocking too hard, it'll start to show artifacts, empty polygons or it will even freeze. Carefully find that limit and then back down at least 25 MHz from the moment you notice an artifact. Look carefully and observe well. I really wouldn't know why you need to overclock today's tested card anyway, but we'll still show it. All in all... you always overclock at your own risk.


Reference frequency
This sample
Overclocked
Boost Clock: 2581 MHz
Boost Clock: 2609 MHz
Boost Clock: ~2750 MHz
Memory Clock: 16000 MHz
Memory Clock: 16000 MHz
Memory Clock: 17200 MHz
Normally most cards out there will all tweak to roughly the same levels due to all kinds of hardware protection kicking in. We applied the following settings :
Core Voltage Max
Power Limiter: +15%
Clock Max 2800 MHz
Mem clock 2150 (=17200 Mbps effective)
FAN RPM default
The mem clock is limited to a maximum of 2150 MHz (17200 Gbps effective data-rate). We achieved 2800 MHz on the GPU frequency. However, the power limiter kicks in fast, once it does downclock the card back mostly to 2700~2750 MHz when it gets GPU bound in a game.
The results show respective default clocked results plotted in percentages. To the far right where you can see "Aver Difference %", this is the result of the four games tested and averaged out.
Sours: https://www.guru3d.com/
Ive been overclocking for years, pushing cpus and gpus to limits. Back then, it was worth it, 8 years ago it was possible to get a full 1GHz OC out of a cpu, not so today. With modern technology and things like Gpu Boost there's extremely little room to be had, and the cost is excessive amounts of voltage and heat for tiny gains that aren't really noticeable.

OC if you think you have to, but honestly the extra power requirements, possible instability, wear and tear on components, extra heat output really isn't worth the 2-6fps gains.

Competition has made it this way, nobody would buy an Asus 6700xt if the msi and Gigabyte both got higher performance for the same price. So everyone is pushing close to limits on a per class basis. The budget cards are all similar, mid-range and high end are all similar performance levels. Their pcb, components, cooling being set for the performance levels expected. You won't OC an Evga SC to FTW levels etc, the card simply can't handle that.
Sours: https://forums.tomshardware.com/threads/how-to-overclock-xfx-radeon-rx-6700-xt-swft-309-to-get-most-out-of-this-gpu.3705138/
Updated RX 6700 XT ETH Mining Undervolting Overclocking MorePowerTool
Overclocking
Testing notes & interpretation
Overclocking results listed in this section are achieved with the default fan, power, and voltage settings as defined in the VGA BIOS. We choose this approach as it is the most realistic scenario for most users.
Each GPU, including each GPU of the same make and model, will overclock slightly differently based on random production variances.
The data in this table shows comparable overclocks, using identical conditions from previous TechPowerUp reviews.
Overclocked Performance
Using these clock frequencies, we ran a quick test of Unigine Heaven to evaluate the gains from overclocking.
Actual 3D performance gained from overclocking is 1.0%.
View as single page
Next Page »Value & Conclusion
View as single page
Sours: https://www.techpowerup.com/review/amd-radeon-rx-6700-xt/37.html
Xt overclock 6700
AMD Radeon RX 6700 XT Video Card Review
Radeon RX 6700 XT Overclocking
To try out overclocking we used the Performance Tuning capabilities that are built into AMD's Adrenaline Edition drivers. We did a very simple manual overclock that left the GPU voltage untouched and we maxed out the power level to +15%.
We knew that the memory would overclock to the highest limit from our cryptocurrency mining, so we raised it from 2000 MHz to 2150 MHz and and had no stability issues. We enabled fast memory timings to further optimize the memory performance.
For the GPU core clock we had to slowly increase it to find the highest stable setting. Our 6700 XT sample seemed to be happy at 2750MHz for the maximum clock frequency. 2800 MHz would crash the desktop and anything between 2760 and 2790 was fairly unstable.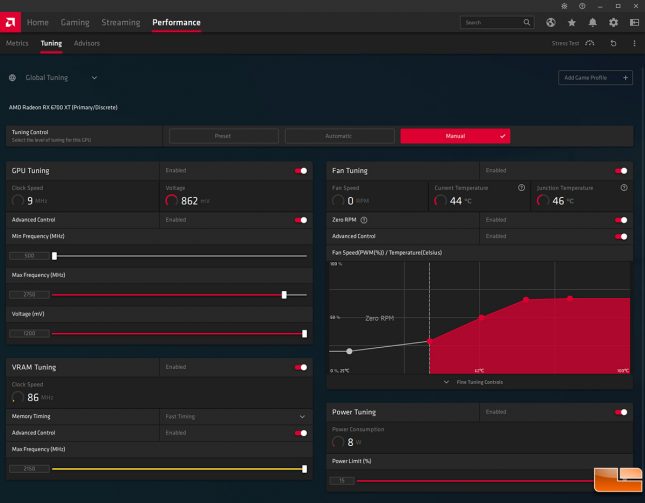 This overclock gave us an overall score of 12,366 points in 3DMark Time Spy and a GPU score of 12,061. At stock speeds we got 11,741 overall and 11,354 for the GPU. This overclock allowed us to improve our 3DMark Time Spy score by over 5%.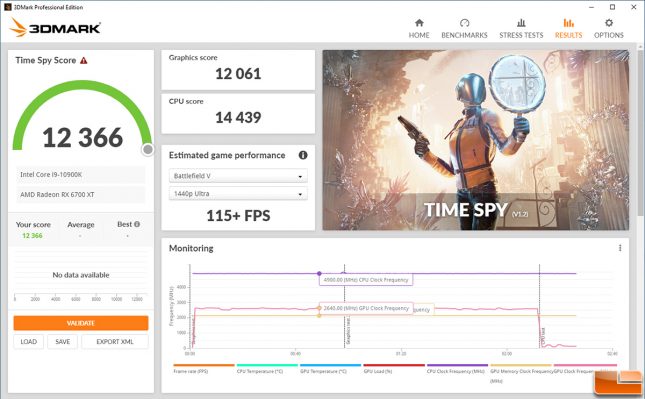 The monitoring utility in 3DMark showed that we were hitting speeds of up to 2640 MHz by setting the max frequency to 2750 MHz. The clock was typically running between 2528 MHz and 2640 MHz with this overclock on this application.
This is a solid overclock and we are happy with the results as it moved the Radeon RX 6700 XT ahead of GeForce RTX 3060 Ti cards in our chart!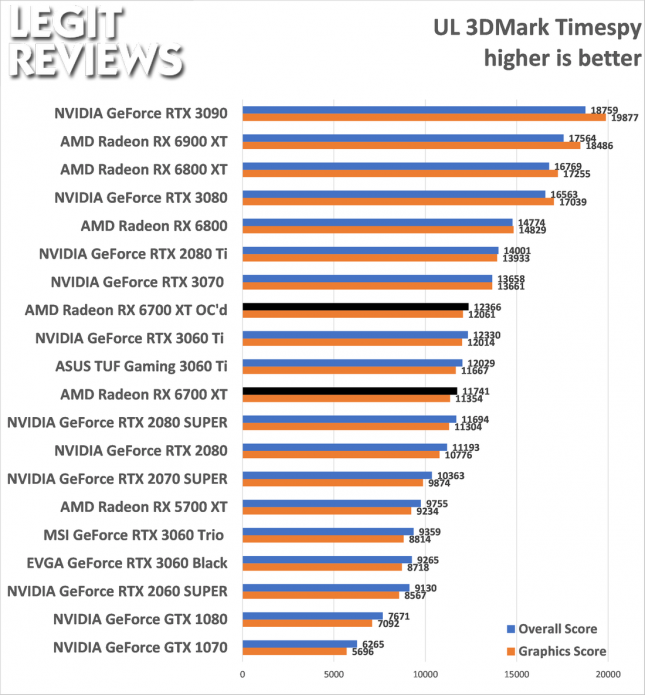 Let's wrap this up!
Sours: https://www.legitreviews.com/amd-radeon-rx-6700-xt-video-card-review_226712/16
How to OVERCLOCK and UNDERVOLT RX 6700XT - ADRENALIN 2021 Easy Tutorial
.
You will also like:
.
585
586
587
588
589