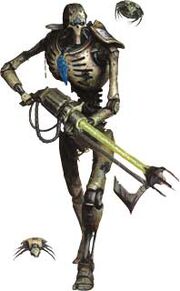 Necron Wraith uses 3rd party Warhammer d20 conversion rules from Daniel Saier (Skrittiblak).

Name: Necron Warrior
Creature Type: Medium-sized Necron (Warrior)
Hit Dice: 10d12+20 (88) Grim'n'Gritty: 33
Initiative: +0
Speed: 20 (can't run)
Defense: 10 (including touch and flat footed)
Base Attack/Grapple: +7/+11
Attack: Gaus Flayer +8 (4d12 plus 1 or 1d4 Con damage, range 120ft, DPP: 2) or Disruption Field Bayonet +11 (3d4+6, halves hardness DRP: 5)
Full Attack: Gaus Flayer +8/+3 (4d12 plus 1 or 1d4 Con damage) or Disruption Field Bayonet +11/+6 (3d4+6, halves hardness)
Space/Reach: 5ft/5ft
Special Attacks: Constitution damage
Special Qualities: Necron Traits (regeneration 10 up, DR18/+5)
Saves:Fort. +3, Ref. +3, Will +7
Abilities:Str 18, Dex 10, Con - , Int -, Wis 10, Cha 16
Skills: -
Feats: Point Blank Shot, Toughness, Weapon Focus (Gaus Flayer)
Environment: Any
Organization: Unit (10-20),
Challenge Rating: 8
Treasure: none
AL: C'tan, Necrons
Advancement: Destroyer

---
The skeletal form of a Necron warrior is a spine-chilling sight, as bullets and lasblasts bounce harmlessly from its metallic limbs. The gaus flayer wich it wields is no less terrifying as it strips its target atom by atom in a heartbeat it desolves skin, muscle and then disintegrates bone until nothing remains
Necron Warriors are the basic troops choice for the Necrons. They come in large numbers, a squad is made up of between 10 and 20 Necron Warriors armed with Gauss Flayers. They may also be upgraded with Disruption Fields. They overwhelm enemies with firepower and numbers before retreating back to their Tomb complexes, awaiting the next call to battle.
They were made from the majority of the Necrontyr people, whose souls were transferred into metallic bodies and then bound to the will of the C'tan. They take on a skeletal form and are a spine-chilling sight in battle, as shells and las-bursts bounce off their hardened exoskeletons.
---
Necron Warriors are too mindless and stoic to use cover. They lumber forward using their weapons grate range to compensate for slow progress. In larger battles they are either deployed by Necron Monolith or teleported into position by a Necron Lord.
Necron Traits: A Necron posesses the following traits:
No constitution score, Necrons are robots, so they are not "living"
Ratial Weapons Proficency (Necrons)
Immunity to all mind-affecting effects
Immunity to poison, sleep effects, paralysis, stunning, disease, death effects and necromancy effects.
Darkvision 60 ft, Necrons have advanced sensors, that allow them to "see" in complete darkness
Low-Light Vision
Not subject to non-lethal damage, massive damage, ability damage, ability drain, fatigue, and exhaustion
Bonus Hit Points acording to size
12 sided Hit Dice
Necrons do not eat, sleep or breath, but do hibernate for millennia, to conserve power
We'll be Back ability
Psychic weakness, Necrons can not use psyching and those aware fear it, Necrons take double damage from psychic attacks and are considered unattended objects for power purposes.
We'll Be Back: Necrons can not be killed, as they are not living things. Their bodies can however be destroyed by weapons with DRP: 5. The Necrons have a remarkable ablility to repair themselves due to their use of the Necrodermis'Living Metal'. Living metal has an uncanny ability to 'flow' back together, closing bullet holes, mending gashes and tears, or even reattaching severed pieces with little delay. The background basis for this lies primarily in the construction of living metal itself which is a mysterious and inscrutable substance, as well as the additional repair mechanisms provided by Tomb Spyders and Scarabs for maintenance purposes. Even the most powerful armaments have no way to stop this terrifying resurrection mechanism so long as an advanced repair source is nearby (such as a Resurrection Orb). Necrons too damaged to repair in the field disappear with a burst of eerie green light, only to manifest for repair in one of the Necron Tomb Worlds to be brought forth again.
Thus the Necrons posess regeneration 10/+5 and can regenerate from up to -50 Hit Points. If however reduced to -50, or struck down by DRP: 5 weapon, they are destroyed and can only be repaired by a Resurection Orb or on a Tomb World.
If fighting on a none-Tomb World, Any single Necron force that is reduced to 25% or less in force is automatically teleported to the closest Tomb World for repairs, including any remains of fallen units and machinery.
Sours: https://d20npcs.fandom.com/wiki/Necron_Warrior
The Necron nobility make war in a codified and relentless fashion. Their command protocols crackle out across multi-dimensional spectra from carrier-wave projectors, compelling their semi-sentient soldiery into battle one overriding directive at a time.
If every unit from your army (excluding DYNASTICAGENT, C'TANSHARDand UNALIGNEDunits) is from the same dynasty, and you select a NOBLEmodel to be your WARLORD, this unit is eligible to benefit from this ability and the following rules apply.
After both sides have deployed, but before you have determined who will have the first turn, you must assign a different one of the command protocols below to each of the first five battle rounds, and note this down secretly on your army roster.
Example: Matts army is led by an Overlord (a NOBLE), and every model in it is from the same dynasty, therefore he must assign command protocols. He selects the following, writing them down on his army roster:

Battle Round 1 = 2 (Sudden Storm)
Battle Round 2 = 3 (Vengeful Stars)
Battle Round 3 = 5 (Undying Legions)
Battle Round 4 = 4 (Hungry Void)
Battle Round 5+ = 1 (Eternal Guardian)
Designers Note: If you have a set of Necrons Datacards, you can instead assign your command protocols by selecting the five corresponding cards you wish to use and placing them in a face-down deck in an order such that - by turning over the top card at the start of each battle round - you reveal the command protocol that will be active for your army that battle round.
At the start of each battle round, if any NOBLEunits from your army are on the battlefield, the command protocol that you assigned to that battle round becomes active for your army until the end of that battle round. Each command protocol is made up of two directives. When a command protocol becomes active for your army, reveal it to your opponent and select one of its directives. Until the assigned command protocol stops being active, while a unit that is eligible to benefit from this ability is within 6" of a friendly NECRONSCHARACTERmodel (excluding C'TANSHARDmodels), that unit benefits from the selected directive.
If the battle lasts for more than five battle rounds, then until the end of the battle, whichever command protocol was active in the fifth battle round remains active. The available command protocols are show below.
Sours: https://wahapedia.ru/wh40k9ed/factions/necrons/Necron-Warriors
Necron stats
Necrons
| | | | | | | | | | |
| --- | --- | --- | --- | --- | --- | --- | --- | --- | --- |
| Name | WS | BS | S | T | W | I | A | Ld | Sv |
| Flayed Ones | 4 | 4 | 4 | 4 | 1 | 4 | 2 | 10 | 3+ |
| Necron Destroyer | 4 | 4 | 4 | 5 | 1 | 2 | 1 | 10 | 3+ |
| Necron Immortal | 4 | 4 | 4 | 5 | 1 | 2 | 1 | 10 | 3+ |
| Necron Lord | 4 | 4 | 5 | 5 | 3 | 4 | 3 | 10 | 3+ |
| Necron Warrior | 4 | 4 | 4 | 4 | 1 | 2 | 1 | 10 | 3+ |
| Necron Wraiths | 4 | 4 | 6 | 4 | 1 | 6 | 3 | 10 | - 3+ |
| Pariahs | 4 | 4 | 5 | 5 | 1 | 3 | 1 | 10 | 3+ |
| Scarab Swarm | 2 | 0 | 3 | 3 | 3 | 2 | 3 | 10 | 5+ |
| The Nightbringer | 6 | 4 | 10 | 8 | 5 | 4 | 5 | 10 | - 4+ |
| The Deceiver | 5 | 3 | 9 | 8 | 5 | 5 | 4 | 10 | - 4+ |
| Tomb Spyders | 2 | 2 | 6 | 6 | 2 | 2 | 3 | 10 | 3+ |
Vehicles
Armour
Front

Side

Rear

BS

Monolith

14

14

14

4
Weapons
Range

Strength

AP

Type

Gauss Blaster

24"

5

4

Assault 2, Gauss

Gauss Cannon

36"

6

4

Heavy 3, Gauss

Gauss Flayer

24"

4

5

Rapid Fire, Gauss

Gauss Flux Arc

12"

5

4

Heavy, D6 per unit within 12", Gauss

Heavy Gauss Cannon

36"

9

2

Heavy 1

Particle Whip

24"

9

3

Ordnance 1, Large Blast

Staff of Light

12"

5

3

Assault 3
Sours: https://sites.google.com/site/thenecronssite/home/necron-stats
Necron Warriors - Review (WH40K)
Necron Warriors
From RelicWiki
This article has been updated for Soulstorm.
The Dark Crusade version is now archived.
Necron Warriors
The core of all Necron forces. Silent as the tombs they awoke from, they slowly march into battle, awaiting the chance to reap the will of their twisted gods on the mortal beings. Constructed out of unidentified alloys, they are exceedingly difficult to destroy, and even when you think you've succeeded in finishing them off, they can stand right back up.
Necron Warriors only regenerate health when not in combat.
Build Time Formula
The actual build time of Necron Warriors is a bit complicated. If S is the number of Necron Warrior squads on the field and U is the number of units in all of those squads, then the build time of a new squad of Necron Warriors before the time bonus is factored in is (10+0.5*U+S*3)*3*1.2S s. Basically, the more you have out, the longer it takes to build them. If units or squads die while a new squad is being built, the new squad's remaining build time will be reduced to match the new time cost.
Tactics
Since Necron Warriors have no production cost they can be kept on overwatch production without crippling your economy. This may cause you to reach your infantry population limit prematurely but if you want to free up pop cap you can easily do so by selecting undesired Necron Warrior squads and pressing delete to 'scuttle' the unit. While Necron Warriors are free to produce, it should be noted that they are not free to reinforce. Because of this it is often desirable to field several smaller squads if time allows, though if a large force is urgently needed reinforcement of existing squads should begin immediately as Necron Warriors have an incredibly slow reinforcement time.
Necron Warriors are quite strong for Tier 1 units and can easily defeat other Tier 1 units in a shootout and even in melee. However, it is important to note that Necron Warriors move quite slowly and take a considerable amount of time to produce as well as tying up production of other units (as all units are produced from the monolith). Necron Warriors remain quite versatile throughout the game due to their two upgrades which see their health increase by a total of 61% and their ranged damage by 76% (their melee damage however does not change) which is very important as they remain the only ranged anti-infantry infantry units that Necrons possess. Necron Warriors fire on the move accuracy is 80% of their standing accuracy (64% total), a fact which helps them mitigate their slow movement speed by allowing them to continue their advance while firing.
Necron Warriors possess two abilities which are both very useful, the first of which is the ability to teleport to friendly structures. This allows them to come to the timely defense of their base, something especially beneficial for them both because they move so slow and because losing plasma generators early can severely cripple a Necron player as power is their sole resource. The teleport ability can also be used offensively by teleporting to an Obelisk built on a strategic point near an enemy base or to a Restored Monolith that teleports in or near an enemy base to quickly bring fresh troops to the front. The Necron Warriors' second ability is the chance for individual squad members to reassemble themselves when destroyed, improving their already impressive resilience.
The best way to fight Necron Warriors is to not fight them directly. Almost anything any race fields against them will cost more and deal less damage and have less health. Therefore, take advantage of the very short range of their weapons, their slow movement speed, and their weakness in close combat at higher tiers. Forcing them through choke points that stagger their squads and are mined or can be hit with artillery is also good. The last thing you want to see is multiple groups of Necron Warriors standing still firing ranged at their target - almost nothing is going to beat that for cost if you have both upgraded equally.
Abilities
Reassemble
Reassemble
Requires
Nothing
Target Types
Own squad
Range
20
Area of effect
0
Cooldown time
Passive ability
Effects
Necrons have the uncanny ability to reassemble themselves even after taking severe damage. If a Necron Warrior is killed and still within range of the surviving squad there is a 25% chance that it will stand back up with 30% of its original Hitpoints.
Necron Summoning
Necron Summoning
Hotkey: J
Requires
Summoning Core
Target Types
Friendly non-turret building
Range
1000
Area of effect
Entire squad
Cooldown time
120 s
Effects
The Necron Warriors teleport to the targeted building. At full charge the Necron Warriors can make one teleportation.
Weapons
Gauss Flayer
Gauss Flayer

Damage Per Second Values
Infantry
Vehicles
Buildings
Daemons
Morale
Base Damage
Low
Med
High
H.Med
H.Hi
Cmdr
Low
Med
High
Air
Low
Med
High
Med
High
DPS
Base
Min
Max
Min.D
Initial DPS:
6.6
15.4
11.0
9.9
7.7
5.5
3.3
3.3
3.2
3.3
6.6
4.4
3.2
7.4
3.2
4
10
24
31
4
With Disruption Field:
8.6
20.0
14.3
12.9
10.4
7.2
4.3
4.3
4.2
4.3
8.6
5.7
4.2
9.6
4.2
4
10
32
41
4
With Enhanced Disruption Field:
11.6
27.0
19.3
17.4
13.5
9.7
5.8
5.8
5.6
5.8
11.6
7.7
5.6
13.0
5.6
4
10
45
56
4

---

Cost
Default Weapon
Range
17
Setup Time
0 s
Build Time
Default Weapon
Accuracy
80%
Refire Rate
1 s
Area of Effect
0
Requires
Nothing
Notes
This weapon has 64% accuracy when firing while moving. Range is increased to 21 with Enhanced Disruption Field.
Gauss Flayer (melee)
Gauss Flayer (melee)

Damage Per Second Values
Infantry
Vehicles
Buildings
Daemons
Morale
Base Damage
Low
Med
High
H.Med
H.Hi
Cmdr
Low
Med
High
Air
Low
Med
High
Med
High
DPS
Base
Min
Max
Min.D
Initial DPS:
8.4
16.8
11.2
8.4
5.6
5.6
5.6
5.6
5.6
4.0
5.6
5.6
5.6
5.6
5.6
0.8
2
30
40
5

---

Cost
Default Weapon
Range
Melee
Setup Time
0 s
Build Time
Default Weapon
Accuracy
80%
Refire Rate
1 s
Area of Effect
0
Requires
Nothing
Researchable Upgrades
Disruption Field
Disruption Field
Hotkey: D
Cost
200
Research Time
80 s
Researched From
Summoning Core
Requires
Nothing
Effects

Necron Warriors health increased by 50 from 530 to 580.
Necron WarriorsGauss Flayer damage increased by 30%.
Enhanced Disruption Field
The Dawn of War Player's Guide
Sours: http://warhammer-guide.ru/wiki/Necron_Warriors.html
Stats necron warriors
.
Gauss Reaper Stats and 12pt Necron Warriors: 9th Edition Necrons Faction Focus
.
You will also be interested:
.
570
571
572
573
574