Charlie Dye – Art of the West
Dye's time as a cowpuncher inspired him to paint "Come and Get It!" and other classic Western scenes. (Rockwell Museum of Western Art, Corning, N.Y.)
Artists like Dye who could say with conviction, 'I was there, that's my home, I did that,' had a distinct advantage over Eastern artists
It's one of those iconic renderings of American cowboys.
In the late afternoon a camp cook rings the triangle and hollers, "Come and get it!" Suspended over the campfire, a cast-iron pot steams as cowboys ride up from a valley, into which stretches a large cattle herd. Another man helps the cook. A horse in the foreground grazes, while another, freed of its saddle, rolls in the dust. Far off behind the chuck wagon and a supply wagon rises a purple mountain range.
"Humanity" is what strikes James Peck, curator of collections for the Rockwell Museum of Western Art, when he looks at Come and Get It! The late Charlie Dye painted the 30¼- by 40¼-inch oil on canvas in 1961, and the Rockwell, based in Corning, N.Y., obtained it in 1983.
"Unlike many Western scenes of the time, which focused on the action inherent in cowboy work, this is a simple genre scene," Peck says. "The fatigue of the cowboys is palpable, as is their anticipation of the hearty meal. The late afternoon sun sets the cook in sharp contrast to the rest of the scene, reinforcing his position as the center of the composition."
It's also authentic.
"Dye came to fame at a time when authenticity was key to success in the Western genre," Peck explains. "Earlier illustrators like Norman Rockwell and N.C. Wyeth could live in the East and only occasionally go West for source material. However, by the mid–20th century, as much of the legend of the West faded into memory, artists like Dye who could say with conviction, 'I was there, that's my home, I did that,' had a distinct advantage over Eastern artists. As more people moved West, they began to crave art that reflected their Western lifestyle. Dye was among the very first Western artists to combine professional art training, an illustrator's aesthetic and Western bona fides. It is a model emulated many times since, a model ultimately inspired by the greatest cowboy artist ever, Charlie Russell."
Born in Colorado in 1906, Dye had cowboyed on ranches in his home state, California and Oregon by the time he was 20. He sketched scenes from that cowboy life as a hobby. And he didn't just cowboy and draw. He played semipro football and even worked as a bodyguard for a politician. But art drove him.
Educated at Chicago's Art Institute and the American Academy of Art, he moved to New York and worked as a magazine and book illustrator. By the 1950s, as that market dried up, Dye returned to Colorado to paint. By 1962 he was living and painting in Sedona, Ariz., where he remained until his death in 1973. In 1965 Dye cofounded the Cowboy Artists of America.
"While some images are based in contemporary cowboy culture, there is an effort to sand off the edges of modern life, so that contemporary and historic paintings are difficult to differentiate," Peck says. "In all things Dye, like most cowboys artists, strove for accuracy in Western details in both historic and contemporary scenes. As for influences, his body of work suggests that Charlie Russell was a huge historical influence."
Where does Dye stand among today's masters?
"He is firmly in the top tier of the mid-20th Century Western illustrator artists, on par with Joe Beeler, Tom Lovell and Howard Terpning," Peck says. "By the time Dye and his contemporaries started to paint the West, the Indian battles and mining towns of the 19th century had slipped into the realm of nostalgia. As the Wild West began to fade, the American appetite for nostalgia and myth increased. Because the camera could not easily capture nostalgia, illustrated magazines turned to painters to capture the West of memory. Dye, like so many of his contemporaries, worked for the illustrated magazine for a time."
Come and Get It! is the only Dye work housed at the Rockwell, which also features art by Russell, Frederic Remington, George Catlin and Thomas Moran as well as Andy Warhol, Kay WalkingStick, Clyde Aspevig and Deborah Butterfield. But Dye is a perfect fit at the museum, which was founded in 1976 after collectors Robert and Hertha Rockwell donated much of their extensive collection of art, artifacts, Carder Steuben glass, firearms and antique toys.
"Dye personally visited the Rockwell family ranch in Gunnison, Colo., many times, long before he knew he'd have a painting in the museum collection," Peck says. "The Rockwell family ranch has been part of the Rockwell family for generations, and it is the location that inspired Robert Rockwell Jr. to begin collecting Western art in the 1960s."
Sours: https://www.historynet.com/charlie-dye-art-of-the-west.htm
Charlie Dye
(American, 1906–1972)
Biography
Charlie Dye was an American painter. He is best known for his depictions of cowboys chasing down or branding their cattle and fictional scenes from the American Old West replete with pioneers and Native Americans. Born on October 30, 1906 in Canon City, CO, he spent much of his youth amidst horses and farm animals, as his father was a Texas Trail cowhand. Dye began making art after recovering in the hospital from an injury sustained from falling off a horse, and went on to attend the School of the Art Institute of Chicago. The artist died in 1972 in Sedona, AZ. Today, Dye's works are in the collections of the National Cowboy Hall of Fame and Western Heritage Center in Oklahoma City and the National Center for American Western Art in Kerrville, TX, among others.

Charlie Dye
The Mustangers
Sale Date: September 18, 2021
Auction Closed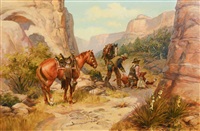 Charlie Dye
Maverick
Sale Date: May 6, 2021
Auction Closed
Charlie Dye
Rodeo Cowboy
Sale Date: March 19, 2021
Auction Closed
Charlie Dye
The Rustler
Sale Date: May 16, 2020
Auction Closed
Charlie Dye
Invited Out
Sale Date: May 16, 2020
Auction Closed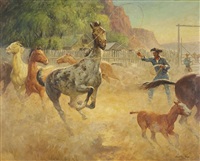 Charlie Dye
The Roper
Sale Date: December 27, 2014
Auction Closed
Sours: http://www.artnet.com/artists/charlie-dye/
Charlie Dye ( 1906–1972 )
< BACK TO ARTISTS
Original Autobiography of Charlie Dye on the verso of the painting "Jerked Down" I was born in Canon City Colorado in 1906. My dad was a Texas Trail cowhand and Mother a gal from Indian Territory in Oklahoma. Mother said that the first word I ever uttered was "horse". Maybe this was just a western stretcher, but I can't remember when I first rode or draw a horse. They have always been to me the most beautiful and interesting of God's creatures. I used to make sketches to entertain the varied and colorful cow-pokes who were my hoss-back companions. Also just to entertain myself. The "blessings" of T.V. and other canned entertainment hadn't arrived on the scene, and most of us had hobbies, such as, carving leather or wood, plating rawhide equipment, making spurs, etc. I sketched. My decision to study art seriously was induced by a knot-headed old black bronco that threw me clean into a hospital. An old buzzard in the next bed, introduced me to the pen sketches of Charlie Russell. I didn't know that a fell
Charlie Dye (1906–1972)
Remuda ()
oil on board
30 x 40 1/4 in
$93,600
Charlie Dye (1906–1972)
Sun Up ()
oil on canvas
24 x 40 in
$87,750
Charlie Dye (1906–1972)
Jerked Down ()
oil on canvas
24 x 36 in
$74,750
Charlie Dye (1906–1972)
Texas Brush Popper ()
oil on board
20 x 24 in
$74,750
Charlie Dye (1906–1972)
Southwest Memories ()
Oil on Board
24 x 36 in
$67,200
Charlie Dye (1906–1972)
After a Bunch Quitter ()
Oil on Canvas
24 x 30 in
$57,500
Charlie Dye (1906–1972)
Geronimo with his Band in the Chiricahua Mountains ()
oil on linen
24 x 30 in
$46,000
Charlie Dye (1906–1972)
Leading Their Buffalo Horses ()
oil on canvas
20 x 30 in
$38,025
Charlie Dye (1906–1972)
After a Bunch Quitter ()
oil on canvas
24 x 30 in
$32,175
Charlie Dye (1906–1972)
Tumbleweed ()
oil on board
20 x 24 in
$29,900
Charlie Dye (1906–1972)
Brush Poppers and Rock Hoppers ()
Oil on Board
10 x 15 in
$25,875
Charlie Dye (1906–1972)
Cowboy on Horse Fighting a Grizzly Bear ()
oil on masonite
23 3/4 x 17 1/2 in
$12,870
Charlie Dye (1906–1972)
Watching the Back Trail ()
oil on board
8 x 12 in
$9,360
Charlie Dye (1906–1972)
Mules, Mustangs, and Men ()
oil on panel
8 x 12 in
$9,360
Charlie Dye (1906–1972)
Geronimo ()
Oil on Board/Panel
8 x 10.5 in
$9,200
Charlie Dye (1906–1972)
Untitled (Indian Study) ()
oil on board
11 1/2 x 14 in
$8,190
Charlie Dye (1906–1972)
The Mustangers ()
oil on board
24 x 36 in
$96,000
Sours: http://jacksonholeartauction.com/artist/charlie_dye.html
DIY Tie Dye Painting -- Crayola CIY: Create It Yourself
.
Painting charlie dye
.
How to Paint MDF - Video #1
.
Now discussing:
.
19
20
21
22
23