March 15, 2021 (SPRING VALLEY, NY) -- East Ramapo Central School District Interim Superintendent of Schools Dr. Ray Giamartino, Director of Health, Physical Education, and Athletics Joe Toombs, and local officials cut the ribbon on a much-needed state-of-the-art fitness center at Ramapo High School (RHS) today.
"This is an exciting day for our Physical Education (PE) and athletics programs, for our students, and student-athletes, and for our entire school community," said Giamartino. "In opening the doors to this new facility, we are opening the doors to equitable access to high-quality resources that will support improved health, wellness, fitness, and training for the school community. Our children deserve the best programming possible, and this renovated space and investment in the latest fitness equipment will provide such and heighten the pride we have in the East Ramapo Central School District."
The new Ramapo High School Fitness Center offers 4,400 square feet of functional instructional space that is linked directly to the school's Secondary Physical Education plan. The facility features an open floor plan to support studio-style fitness classes in PE and after school activities, including wrestling, track, basketball, football, and off-season training. The new space also features a traditional weightlifting center, with two full rig systems for explicit training and teaching opportunities. The center also offers rowing machines, spin bikes and treadmills. The RHS Physical Education program will be enhanced through this new facility, with access provided to students and student-athletes during morning and evening hours.
"Space impacts how our students learn and how our athletes perform," said Toombs. "This new facility will certainly help to shape our school community's thinking or perspective, as it serves to highlight the success of East Ramapo athletics in an increasingly competitive environment. Our coaches and staff will be better positioned to develop our students and student-athletes for both sport and life."
The new RHS Fitness Center is designed to be flexible and adaptable to meet the growing needs of the school community. Much of the new equipment is collapsible and mobile, allowing coaches and PE teachers to creatively and effectively utilize the existing physical space. The Fitness Center meets all state and local accessibility requirements.

A 2020 review of East Ramapo Central School District facilities identified deficiencies in the existing Ramapo High School (RHS) Fitness Center. The aging equipment did not meet the latest requirements for proper instruction, with much of the apparatus in disrepair and beyond its useful lifespan. Much of the physical space, including floors and walls, did not provide equitable access to high-quality resources. With PE as an integral component of student's daily programming and healthy schools, ERCSD developed a plan and sought funding to improve the space to best meet our students' needs and align to New York State's teaching standards.
The new Ramapo High School Fitness Center was funded through grant money from a Creating Healthy Schools and Communities grant, in partnership with Rockland County Department of Health, as well as a portion of the Athletics Physical Education, Health and budget.
CLICK HERE TO SEE HIGHLIGHTS FROM THE RIBBON-CUTTING
CLICK HERE TO VIRTUALLY TOUR THE NEW FITNESS CENTER
Sours: https://www.ercsd.org/RibbonCuttingRHS
Job Opportunities
RAMAPO COLLEGE OF NEW JERSEY:
Mission: Ramapo College of New Jersey is New Jersey's Public Liberal Arts College, dedicated to providing students a strong foundation for a lifetime of achievement. The College is committed to academic excellence through interdisciplinary and experiential learning, and international and intercultural understanding. Ramapo College emphasizes teaching and individual attention to all students. We promote diversity, inclusiveness, sustainability, student engagement, and community involvement.
Established in 1969, Ramapo College offers bachelor's degrees in the arts, business, humanities, social sciences and the sciences, as well as in professional studies, which include business, elementary education, nursing and social work. The College also offers articulated programs, including dental, optometry, chiropractic and health professions, as well as visual arts therapy and law, with colleges and institutions in New Jersey and New York.
Undergraduate students may choose to concentrate their studies in one of five schools with more than 539 course offerings and more than 36 academic programs. Ramapo College boasts an average student/faculty ratio of 18:1 and an average class size of 23; affording students the opportunity to develop close ties to the College's exceptional faculty.

JOB SUMMARY
Under the direction of the Director of Athletics and the Assistant Athletic Director for Finance and Operations, the Coordinator of Intramurals, Recreation and Club Sports will direct, organize, supervise and evaluate all aspects of the intramural, recreation and club sport programs for students. They are responsible for planning short- and long-range goals, objectives and activities for the club sport, intramural and recreation program. They are responsible for the planning and implementing of activities that meet the identified intramural, recreational and social needs of the students and staff. They will assist the Assistant Director of Athletics for Finance and Operations with the successful implementation and operation of a new ESports program.
Sours: https://www.ramapojobs.com/job-details?jobID=604&job=coordinator-of-intramurals-recreation-and-sports-clubs
Bill Bradley Sports and Recreation Center
The Bill Bradley Sports and Recreation Center features a 2,200-seat arena, fitness center, track, dance/aerobics studio, and a rock climbing wall designed to simulate the natural topography of the neighboring Ramapo Mountain terrain.  These facilities can be reserved for special events and used by conference guests during open recreation.
Bradley Center Arena Virtual TourRoom Diagrams
Arena
Dimensions 156' x 118.9' (18,608 sq. ft)
1457 bleachers (with backs)
Floor seating available for non-athletic events
Konica/Minolta Spectator Lobby (not Visitor's Lobby)
8,476 sq. ft.
200 rounds
542 standing
35 6' tables
Concessions Stand`
Auxiliary Gym
Dimensions 131.1' x 100.2' (13,923 sq. ft)
570 chairs
500 chairs/stage
131 recreational use
Adele and Rueben Thomas Pool
Dimensions 97.9' x 46' (3,491 sq. ft.)
60 swimmers max (state codes for lifeguards apply)
104 pool deck
Edelman Climbing Wall
24' high
Participants must be 16 yrs. old or 4.6" tall
Dance Studios (2)
Removable wall
75 open, 35 each
Sours: https://www.ramapo.edu/conferences/facilities/sports-and-recreation/
walkin to the gym
JTS Community, Health & Sports Center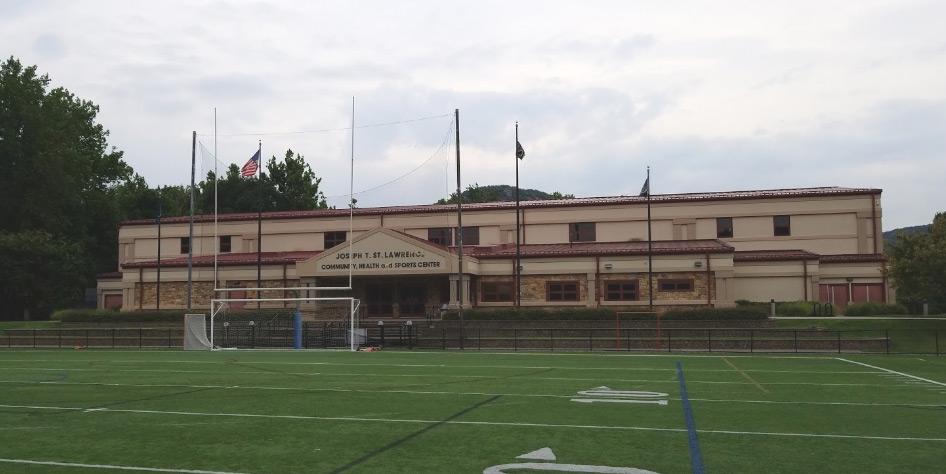 * OPEN TO GUESTS!
* GUEST FEE: $10.00 ALL AGES
* READ COVID ACTION PLAN >>
* FACE COVERINGS REQUIRED AT ALL TIMES
* SOCIAL DISTANCING ENFORCED* "EXCERCISE & GO" POLICY
* CURRENT MEMBERS-COVID CLOSURE EXTENSIONS ADDED

115 Torne Valley Road
Hillburn, NY 10931
845-753-2324
Map & Directions »
Features Include
Indoor Track • Strength Training Circuit • Cardio Fitness Equipment • Aerobic/Dance Studio • 3 Full Size Multi Sport Gyms • Spin Studio
• Bouldering Wall • 2 Racquetball Courts • Wi-Fi Capability • Vending Cafe
Hours of Operation
| | |
| --- | --- |
| Monday - Friday | 7am - 10pm |
| Saturday | 8am - 10pm |
| Sunday | 8am - 9pm |
Inclement Weather
Please call the facility or check this website for updates on cancellations or closings due to severe weather predictions.
2021 CLOSINGS
| | |
| --- | --- |
| New Year's Day | Friday January 1, 2021 |
| MLK Day | Monday January 18 |
| President's Day | Monday February 15 |
| Memorial Day | Sunday May 30 + Monday May 31 |
| Independence Day | Saturday July 3 - Monday July 5 |
| Labor Day | Saturday Sept 4 - Monday Sept 6 |
| Columbus Day | Monday October 11 |
| Election Day | Tuesday November 2 |
| Veteran's Day | Thursday November 11 |
| Thanksgiving | Thurs Nov 25 + Fri Nov 26 |
| Christmas Eve | Friday December 24 |
| Christmas | Saturday Dec 25 + Sunday Dec 26 |
| New Year's Eve | Friday December 31 |
| New Year's Day | Saturday January 1, 2021 |
JTS Ramapo Resident Membership Form »
JTS Non-Resident Membership Form »
Program Registration Form »
JTS Guest Form »
Sours: http://www.ramapoparks.org/page/jts-community-health--sports-center-4.html
Center ramapo athletic
.
walkin to the gym
.
You will also like:
.
145
146
147
148
149