XPLORA 4&GO
XPLORA is the perfect introduction to world of mobile products for kids. You will have all the features your child will need, such as call, location, safe zones and SOS. XPLORA is also compatible with our O2O platform, the worlds first Offline 2 Online Activity platform.

* PARENTAL APP - XPLORA is fully set up and controlled through the App on the parents' smartphone.

* GPS LOCATION - XPLORA uses a unique blend of GPS, WiFi and Cellular Network to provide the most accurate location information, both indoor and outdoor.

* VOICE CALLING - XPLORA can make and receive calls from pre-registered contacts in the app by guardians or parents.

* SAFETY ZONES - XPLORA notifies the app automatically when a child enters or leaves a predetermined location.

* STEP COUNTER - XPLORA counts your steps and converts them into XCOINS
XPLORA is a leading pioneer in offering innovative smart devices and services for families. Our vision is to provide quality services connecting the family members in new ways with more interactions and engagement.


XPLORA kids phone service is revolutionizing the way that kids can be introduced to the mobile world in a more safe and secure way. We're partnering with the reliable global telecommunication companies and manufacturers to ensure that our products and services exceed the expectations of our esteemed consumers who care for their loved ones.
Sours: https://play.google.com/
Billed as 'your child's first mobile' Xplora's XGO2 is a smartwatch with GPS tracking that lets children make and receive calls, as well as take photos and do all the usual best kids' smartwatch tasks. To make all these features possible, there's space for a SIM card inside, but because of this, it needs a PAYG SIM, which is a big consideration.
When it comes to features, this watch packs a punch, but what it offers in quantity, it sometimes lacks in quality, because pitched against glossier competitors, this smartwatch lacks the wow factor. The build quality is a bit plasticky and some of the features lack the excitement or visual appeal offered by rival gadgets. But, if you want a features-driven watch and aren't too fussed about aesthetics, this one might be for you.
Xplora XGO2 review: Design
First thing's first, the XGO2 is not for wallflowers. It's big on an adult wrist and protrudes on a child's, and even the screen has attention-grabbing embellishments. Like most kids' fitness trackers it comes with a rubbery strap in a choice of four bright colours. Overall, the design lacks the sleek style of a fitness tracker like the Fitbit Ace 2, or the modern finesse of Vodafone's Neo (which is perhaps its stiffest competition) and the build quality doesn't feel quite up to scratch either, which is a shame as this watch is £99 and close in price to the Vodafone Neo Kids Smartwatch.
With all smartwatches and trackers, the design of the watch's interface and accompanying app matters too. They are easy to navigate and everything is where you'd guess, but it lacks any flare. The calendar, for example, is a grid of tiny numbers that you can click on, and everything looks no-frills. In a nutshell, this watch does what you need it too and more, but it's not always pretty.
Xplora XGO2 review: Display
The XGO2 smartwatch has a 1.4-inch colour display. That's a decent size to look at key statistics like the time and steps, but can still make life a bit tricky to click on the teensy-weensy numbers on the calendar, for example. That said, our mini tester (with her smaller fingers) didn't have much trouble.
The 240 x 240 resolution isn't too bad when it comes to looking at the colourful icons and stats, including the 'steps walked' section, which is really nicely laid out so that progress is really obvious, a little bit like the Apple Watch.
The resolution, however, doesn't make the photos you take look great, though that could be more to do with the 0.3MP camera. While the resolution isn't brilliant, the display is nice and responsive when swiping and clicking, which makes navigating the different features simple.
Last but not least, it's worth noting that there's a lot of plastic around the screen, which makes the watch bulky and large on little wrists.
Xplora XGO2 review: Features
When it comes to features, the XGO2 pulls ahead of the smartwatch competition, in quantity at least.
Its biggest USP is the ability make calls and receive calls, as the watch has room for a SIM, giving it 4G, 3G and 2G connectivity. Like Vodafone's Neo, this ability is limited to pre-approved contacts and we found it easy to add numbers in the app to add contacts. Apparently, there's room for 50, although we ran out of friends before reaching capacity. The XGO2 gives wearers more freedom than other watches, allowing children write and receive texts, voice messages and emojis, instead of sending a choice of pre-approved messages, for example. This is probably good news for older children, who seem to be the watch's target audience.
Thanks to having a SIM on-board, the watch benefits from GPS and location-based features. There's an option to set-up 'security zones' around your home and school, for example. This is pretty easy to do, and you get an alert on your phone if your child leaves the area, which might be handy or slightly terrifying, depending on your parenting style. There's also the ability for children to press the 'SOS' button to tell their saved emergency contacts where they are.
While all these features sound great in theory, GPS tracking isn't for everyone. It can be inaccurate and there are always concerns about whether data could pose a danger or breach trust. But, ultimately, it's a personal choice and can also be a powerful tool.
The watch, which runs Android 4.4 OS, also boasts fun features including a front-mounted camera, which is handy for selfies, although these are not great quality. With just a 0.3MP camera, the photos come out grainy, but our mini tester loved taking them, and flicking through the gallery on her wrist. There's also a torch on the side, which doesn't do a lot, but does make you feel a little bit like a secret agent, which is always good.
There are not many other fun features on the watch itself, but for the mini executive, there's a stopwatch, calendar, calculator and recorder. There is, however, the option to join a 'campaign' which allows the wearer of the watch to earn Xcoins by moving around, and spend them on a 'campaign' game. When we gave it a try, the option was a pinball game to promote Tom & Jerry The Movie. This feature is perhaps' most similar to the Garmin Vivo Jr 3 where users also have to wait to access a smartphone before seeing rewards, but lacks the ability to choose content or between characters.
Like with the Neo, there's the option for parents to cut off the fun (because we're good at that) and schedule School Mode, which means the smartwatch can only be used as a watch and won't allow calls etc, which is good for helping kids focus in class. The app makes this simple and you can set up recurring patterns for term time, saving your own precious time – just be sure to turn these off for the holidays!
Xplora XGO2 review: Battery
We all know smartwatches don't boast the best battery, and this one is no different. The 700 mAh battery is said to last three days on standby. For us it was more like 2 days, but that was with some fiddling with functions.
That said, kids do tend to fiddle with gadgets quite a lot, so we could imagine having to charge this watch up every day if they are planning on using any of its features regularly. That may be a dealbreaker for some, but it's not dissimilar to other feature-heavy watches.
While the frequency or charging might be a pain, the mechanism for doing so on the watch works really well, with a magnetic charger included in the box.
Xplora XGO2 review: Verdict
If you measure this watch simply by its features, the XGO2 is one of the leaders of the pack. It offers more flexibility than the Vodafone Neo when it comes to sending messages and making calls, making it the leader of all the kids smartwatches and trackers we've tried when it comes to this feature. It similarly offers more security features than its competitors.
But the watch overall is a little lacklustre and joyless. It does a lot of things adequately, but little with any pizzazz. Photos are grainy, there's little animation on the watch face, and the extras are pretty boring, so it feels quite pricey for £99, not forgetting you'll need to pay for a (cheap) contract or PAYG SIM too.
If calls and safety are a priority (or your kid fancies themselves as the next Alan Sugar) this watch is a good bet, but otherwise, there are more fashionable and fun options out there.
Liked this?
Sours: https://www.t3.com/reviews/xplora-xgo2-review
Undocumented backdoor that covertly takes snapshots found in kids' smartwatch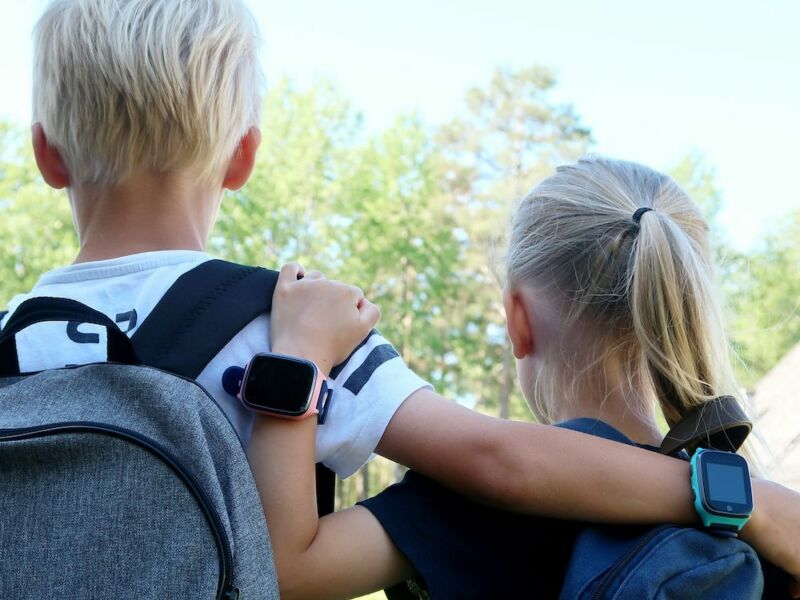 with 76 posters participating
A popular smartwatch designed exclusively for children contains an undocumented backdoor that makes it possible for someone to remotely capture camera snapshots, wiretap voice calls, and track locations in real time, a researcher said.
The X4 smartwatch is marketed by Xplora, a Norway-based seller of children's watches. The device, which sells for about $200, runs on Android and offers a range of capabilities, including the ability to make and receive voice calls to parent-approved numbers and to send an SOS broadcast that alerts emergency contacts to the location of the watch. A separate app that runs on the smartphones of parents allows them to control how the watches are used and receive warnings when a child has strayed beyond a present geographic boundary.
But that's not all
It turns out that the X4 contains something else: a backdoor that went undiscovered until some impressive digital sleuthing. The backdoor is activated by sending an encrypted text message. Harrison Sand and Erlend Leiknes, researchers at Norwegian security company Mnemonic, said that commands exist for surreptitiously reporting the watch's real-time location, taking a snapshot and sending it to an Xplora server, and making a phone call that transmits all sounds within earshot.
Sand and Leiknes also found that 19 of the apps that come pre-installed on the watch are developed by Qihoo 360, a security company and app maker located in China. A Qihoo 360 subsidiary, 360 Kids Guard, also jointly designed the X4 with Xplora and manufactures the watch hardware.
"I wouldn't want that kind of functionality in a device produced by a company like that," Sand said, referring to the backdoor and Qihoo 360.
In June, Qihoo 360 was placed on a US Commerce Department sanctions list. The rationale: ties to the Chinese government made the company likely to engage in "activities contrary to the national security or foreign policy interests of the United States." Qihoo 360 declined to comment for this post.
Patch on the way
The existence of an undocumented backdoor in a watch from a country with known record for espionage hacks is concerning. At the same time, this particular backdoor has limited applicability. To make use of the functions, someone would need to know both the phone number assigned to the watch (it has a slot for a SIM card from a mobile phone carrier) and the unique encryption key hardwired into each device.
Advertisement
In a statement, Xplora said obtaining both the key and phone number for a given watch would be difficult. The company also said that even if the backdoor was activated, obtaining any collected data would be hard, too. The statement read:
We want to thank you for bringing a potential risk to our attention. Mnemonic is not providing any information beyond that they sent you the report. We take any potential security flaw extremely seriously.

It is important to note that the scenario the researchers created requires physical access to the X4 watch and specialized tools to secure the watch's encryption key. It also requires the watch's private phone number. The phone number for every Xplora watch is determined when it is activated by the parents with a carrier, so no one involved in the manufacturing process would have access to it to duplicate the scenario the researchers created.

As the researchers made clear, even if someone with physical access to the watch and the skill to send an encrypted SMS activates this potential flaw, the snapshot photo is only uploaded to Xplora's server in Germany and is not accessible to third parties. The server is located in a highly-secure Amazon Web Services environment.

Only two Xplora employees have access to the secure database where customer information is stored and all access to that database is tracked and logged.

This issue the testers identified was based on a remote snapshot feature included in initial internal prototype watches for a potential feature that could be activated by parents after a child pushes an SOS emergency button. We removed the functionality for all commercial models due to privacy concerns. The researcher found some of the code was not completely eliminated from the firmware.

Since being alerted, we have developed a patch for the Xplora 4, which is not available for sale in the US, to address the issue and will push it out prior to 8:00 a.m. CET on October 9. We conducted an extensive audit since we were notified and have found no evidence of the security flaw being used outside of the Mnemonic testing.
The spokesman said the company has sold about 100,000 X4 smartwatches to date. The company is in the process of rolling out the X5. It's not yet clear if it contains similar backdoor functionality.
Advertisement
Heroic measures
Sand and Leiknes discovered the backdoor through some impressive reverse engineering. He started with a modified USB cable that he soldered onto pins exposed on the back of the watch. Using an interface for updating the device firmware, he was able to download the existing firmware off the watch. This allowed him to inspect the insides of the watch, including the apps and other various code packages that were installed.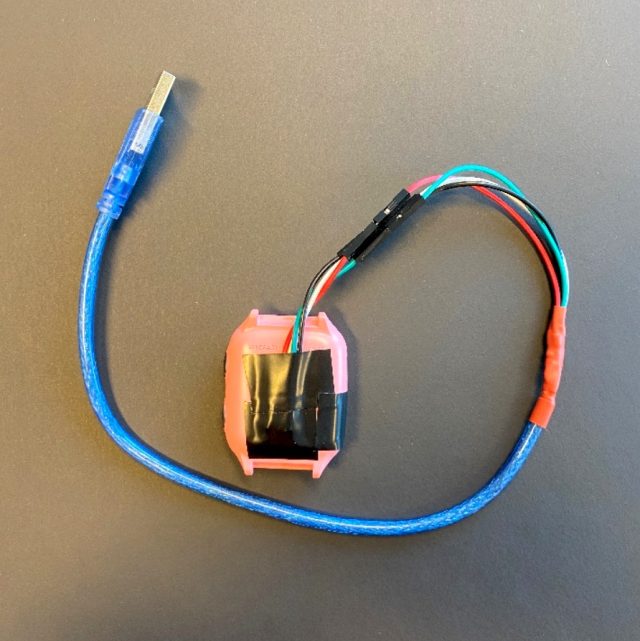 One package that stood out was titled "Persistent Connection Service." It starts as soon as the device is turned on and iterates through all the installed applications. As it queries each application, it builds a list of intents—or messaging frameworks—it can call to communicate with each app.
The researchers' suspicions were further aroused when they found intents with the following names:
WIRETAP_INCOMING
WIRETAP_BY_CALL_BACK
COMMAND_LOG_UPLOAD
REMOTE_SNAPSHOT
SEND_SMS_LOCATION
After more poking around, the researchers figured out the intents were activated using SMS text messages that were encrypted with the hardwired key. System logs showed him that the key was stored on a flash chip, so he dumped the contents and obtained it—"#hml;Fy/sQ9z5MDI=$" (quotation marks not included). Reverse engineering also allowed the researcher to figure out the syntax required to activate the remote snapshot function.
"Sending the SMS triggered a picture to be taken on the watch, and it was immediately uploaded to Xplora's server," Sand wrote. "There was zero indication on the watch that a photo was taken. The screen remained off the entire time."
Sand said he didn't activate the functions for wiretapping or reporting locations, but with additional time, he said, he's confident he could have.
As both the researchers and Xplora note, exploiting this backdoor would be difficult, since it requires knowledge of both the unique factory-set encryption key and the phone number assigned to the watch. For that reason, there's no reason for people who own a vulnerable device to panic.
Still, it's not beyond the realm of possibility that the key could be obtained by someone with ties to the manufacturer. And while phone numbers aren't usually published, they're not exactly private, either.
The backdoor underscores the kinds of risks posed by the increasing number of everyday devices that run on firmware that can't be independently inspected without the kinds of heroic measures employed by Mnemonic. While the chances of this particular backdoor being used are low, people who own an X4 would do well to ensure their device installs the patch as soon as practical.
Sours: https://arstechnica.com/information-technology/2020/10/a-watch-designed-exclusively-for-kids-has-an-undocumented-spying-backdoor/
Review: XPLORA XGO 2 Smart Watch Phone for Kids!
Xplora Go is a wearable that's built for pets, kids and the elderly
Xplora, the Norwegian company best known for its kids smartwatches has officially announced its new Go wearable that's designed for all ages.
We first heard about the Go back in August last year where it was known as the Module X. Along with a name change, Xplora has now announced pricing with the device starting at £69.99 with additional accessory bundles also available that start at £17.99. It will start going on sale in April.
Wareable verdict: Xplora 3S kids smartwatch review
So what exactly does the Go do? Well, it's entirely based on which version you go for. At its core though is a smartwatch face, which packs in features like GPS, location tracking, an SOS button, geofenceable areas, Wi-Fi and network coverage.
The Go is designed for five specific use cases: children, the elderly, pets, bikes and items like suitcases and laptops. So in the case of the pet tracker for instance, it can monitor the whereabouts of your pet, while the version for the elderly can be used as an SOS button as a way of owners letting family members or carers know if they've had a fall. That's where those additional accessories come into play to make the core part of the device feel more personalised.
Xplora already offers smartwatches for children and its Care watch for the elderly, so those uses cases are not new territory for the company. But it will be interesting to see whether its reasonably priced wearable will appeal to pet and bike owners too.
The Go is going to be shown off at MWC 2019, which is not too far away now. We'll be there to learn a little bit more about how this potentially useful wearable works.
---
Wearables
---
Sours: https://www.wareable.com/wearable-tech/xplora-go-wearable-features-price-release-date-6997
Go xplora
.
Xplora Go: GPS Smartwatch for Kids that is actually GOOD!
.
You will also be interested:
.
101
102
103
104
105